Canon EOS 650/T4i Got DXOMarked (and falls behind the EOS 600D/T3i)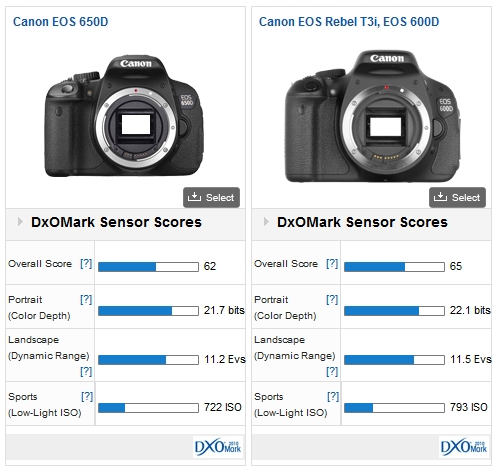 The Canon EOS 650/T4i got DXOMarked and now we have the rather unsatisfying result. Whatever you might think about DXO Marks they are here and we have to take it in account. Sure, it's a purely engineering measure and it doesn't tell the whole story. But they are an indicator for the sensor, its performance and properties. Not only the Rebel T4i/650D falls behind the Rebel T3i/600D, the previous iteration of the series, but it falls very short also when measured against its competitors (Nikon D3200 (click here for specs) and Sony SLT-A65 (click here for specs)). The DXOMark of the EOS 650D/Rebel T4i is 62, the 600D/T3i has 64.
I was surprised to read what DXOMark says about the the auto-focus of the EOS 650D/Rebel T4i: "innovative, quick, quiet, and powerful hybridized autofocus. In video mode, the autofocus operates continuously and takes full advantage of the emerging new line of lenses equipped with Stepping Motor (STM) technology". This sounds good, especcially after the very critic review of the EOS M made by Engadget. Both cameras mount the same, hybrid sensor with dedicated photosites for auto-focus.
Don't get too much impressed with these scores. Sure, they have something to say. But a feature-packed modern DSLR like the EOS 650D has much more to offer.
EOS 650D/Rebel T4i price check: B&H Photo, Adorama, Amazon USA, Amazon CA, KEH Camera, Canon CA, Canon USA [via DXOMark]