Canon EOS R3 Firmware 1.1.1 Released And Available For Download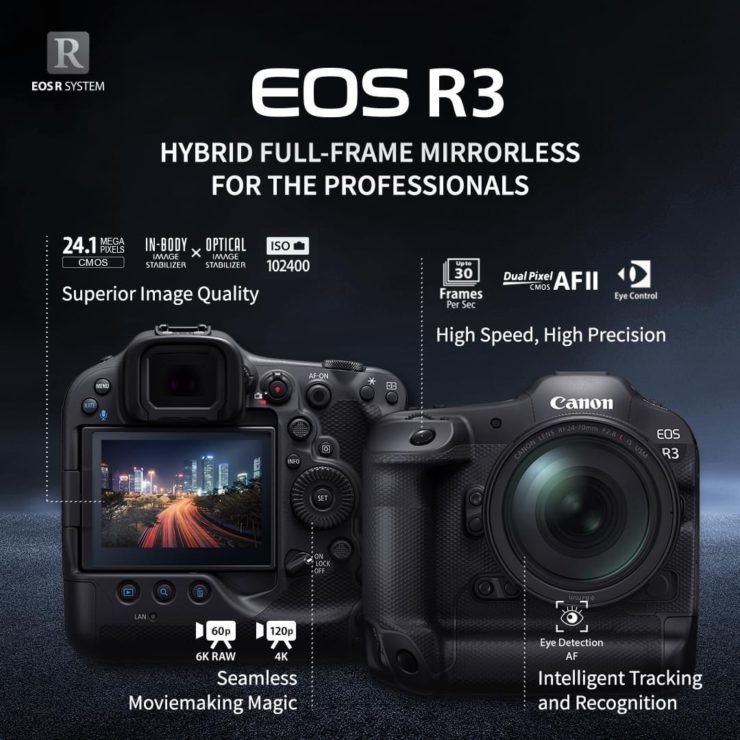 Canon released a new Canon EOS R3 firmware update.
Firmware Version 1.1.1 incorporates the following enhancements and fixes:
1. Adds the ability to use Smart phone link adapter AD-P1.
2. Adds the ability, when using EOS Utility or Browser Remote for remote shooting with two cards inserted, to set the recording method and select the card to be recorded to.
3. Adds the ability to cancel [Subject Tracking] by pressing the Quick Control <Q> and then <INFO> buttons.
4. Adds Ukrainian as an option to the language of "Browser Remote".
5. Improves operation stability during FTP transfer.
6. Fixes an issue that in rare instances, the camera may become inoperable when shooting in the Servo AF setting while operating the <AF-ON> button.
7. Fixes an issue, in which the camera cannot be used as an access point if the camera is being used in a region that only support 2.4 GHz bandwidth for Wi-Fi connections.
You can download Canon EOS R3 firmware 1.1.1 at Canon USA
You can download the Canon EOS R3 user manual from Canon. Or you might read it online. A technical brochure about the EOS R3 is available. You can watch the EOS R3 live-stream again here. More Canon EOS R3 review stuff is listed here. We put together some interesting videos about the EOS R3, listed here. Be sure to check Gordon Laing's in-depth review of the EOS R3, part 1 and part 2. Oh, and don't forget to listen how the R3's 30fps sound. Canon EOS R3 product description after the break.
Order in the USA ($5,999):
B&H Photo | Adorama
All Canon EOS R3 world-wide order links:
America: B&H Photo, Adorama, Amazon USA, Amazon Canada, Canon Canada, Canon USA
Europe & UK: Amazon DE, Amazon UK, Amazon IT, Wex Photo Video, Canon DE, Canon UK