Canon EOS R5 Images And Description Leak On The Web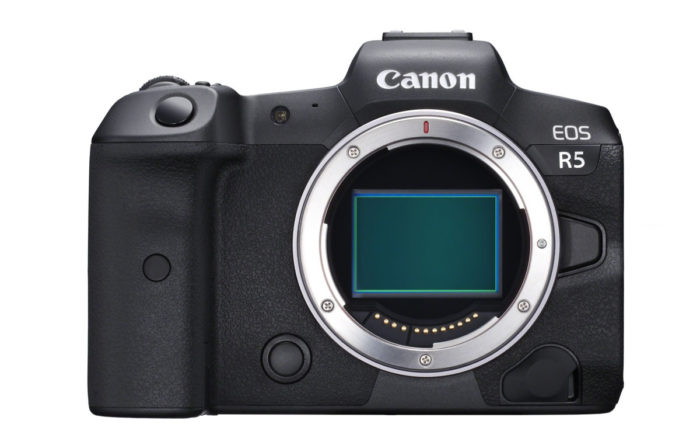 Well, a minute ago it seemed the Canon EOS R5 announcement was a hoax and now it appears we have a serious leak.
The Canon EOS R5 leaked on a non English website, and we are happy to provide the machine translated text. A word of caution: it's not yet 100% sure that we have the real thing now (and we can't tell the URL).
However, it seems most of the so far rumored specifications are real (if the leak is real):
It will not be named Canon EOS Rs but R5 (all rumors)
45mp full frame CMOS sensor
IBIS (In Body Image Stabilisation)

5 stops with IBIS alone
7-8 stops of correction when used with in-lens stabilization

12fps mechanical, 20fps electronic
Scroll wheel added to the back
No touch bar
Liveview/Movie toggle like previous EOS DSLRs
Larger capacity battery, but looks like the LP-E6
Built-in 5GHz WiFi
New battery, but the same shape and compatibility as the EOS 5D Mark IV
Announcement ahead of CP+ next month
Shipping in July 2020
Here is the machine translated product description of the EOS R5:
A technological war machine, the EOS R5 is the first hybrid camera announced with an 8K video mode. To this first is added the stabilization of the sensor (a first for Canon) or a burst at 20 frames per second.
Canon seems to have understood that these EOS R and EOS RP were not really technologically advanced. As a result of which he takes out of his hat a development announcement that is fun to read. The EOS R5, which is expected to arrive later this year, will be the first "serious" package in the RF mount. The little that Canon has agreed to share is enough to make you salivate.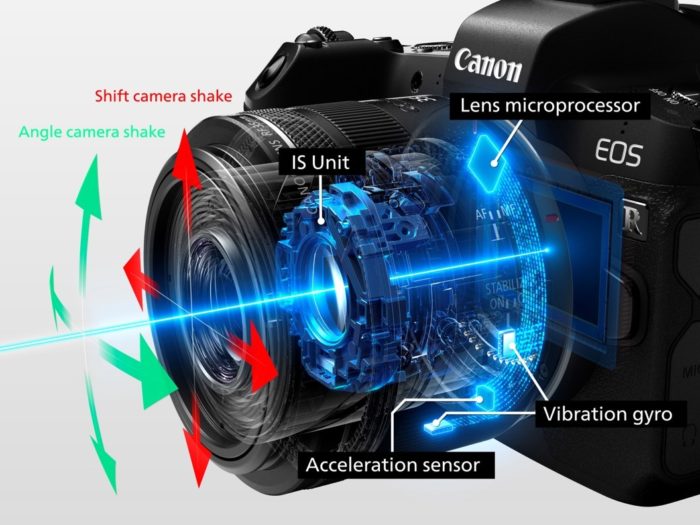 In the front row, there is the video, 8K! A world first in the world of consumer cameras. An unprecedented skill that would allow Canon to take back the king of video, lost during the transition to 4K for the benefit of Panasonic and other Sony.
Canon does not advertise any frame rate, compression (codec), etc. You'll have to wait for the launch announcement to learn more.
he other big news is the arrival of mechanical stabilization of the sensor, a first for Canon. This lack of stabilization is partly responsible for the poor ratings we have given to the EOS R and EOS RP.
According to some information leaks, mechanical stabilization alone would save up to five speeds. Coupled with the optical and electronic stabilizations included in certain optics, this mechanical stabilization could allow gaining up to eight speeds.
Then Canon announces an impressive burst of 20 frames per second in electronic shutter, as with the Sony A9, and a burst at 12 frames per second in mechanical shutter, like sports cameras from Canon and Nikon (1DX Mark II or D5) .
Leading performance we hope followed by level tracking algorithms. Let's also hope that the buffer is generous so that the "sport" potential is not restricted.
Eventually, the EOS R5 will have two memory card slots, which will change from early models limited to one card – sometimes even placed in the battery compartment, like the EOS RP.