Canon Gets 4 EISA Awards for EOS 6D Mark II, EOS M50, EF 85mm f/1.4, and Speedlite 470EX-AI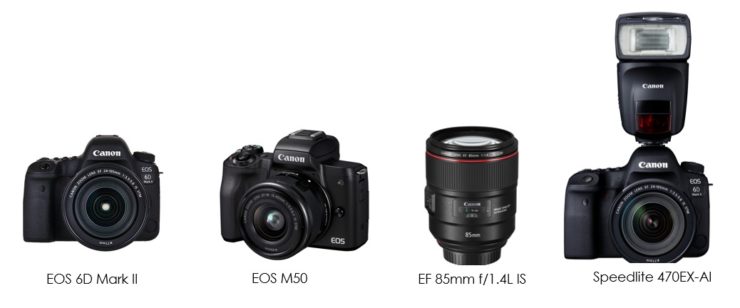 Press release:
Canon Awarded Four Prestigious 2018 EISA Awards
United Kingdom, Republic of Ireland, Wednesday 15 August 2018 – Canon is honoured to have been awarded four prestigious accolades from the European Imaging and Sound Association (EISA) showcasing the breadth of Canon's unrivalled camera, lens and accessory line-up.
EOS 6D Mark II named 'EISA DSLR Camera 2018-2019'
EOS M50 named 'EISA Best Buy camera 2018-2019'
EF 85mm f/1.4L IS USM awarded the 'EISA DSLR prime lens 2018-2019'
Speedlite 470EX-AI flash awarded the 'EISA photo innovation 2018-2019'
Voted by an esteemed panel of judges, consisting of editors from 53 internationally-respected consumer electronics magazines across 23 European countries – as well as Australia, India, Canada and the USA – EISA celebrates technology products that combine the most advanced expertise and desirable features in their class.
Lee Bonniface, Marketing Director, Canon Europe said, "We constantly strive to produce the highest quality products that enable photographers of all levels to perfect their craft. The desire to continuously innovate has kept Canon at the forefront of imaging excellence throughout its 80-year history, so to receive four prestigious awards by EISA is acknowledgement of Canon's relentless focus on unrivalled image quality."
In recognition of Canon's award-winning products, the EISA judging panel delivered the following citations:
EISA DSLR Camera 2018-2019: Canon EOS 6D Mark II
The Canon EOS 6D Mark II is a compact but powerful DSLR for the enthusiast photographer. The 26.2-megapixel full frame CMOS sensor and DIGIC 7 image processor work together to provide excellent image quality, even in low-light scenarios. The camera combines a fast and reliable 45-point autofocus system with Canon's impressive Dual Pixel CMOS autofocus system that is used for live view and video shooting. The Vari-Angle touchscreen – a first for Canon's full frame cameras – makes it easy to frame the subject and to operate the camera menu.
Discover more here: https://www.canon.co.uk/cameras/eos-6d-mark-ii/
EISA Best Buy camera 2018-2019: Canon EOS M50
This small, light and affordable mirrorless camera delivers the same image quality as its larger siblings. Thanks to the 24.1 megapixel APS-C sensor and DIGIC 8 image processor, it can capture both high-quality still images and 4K video. The Vari-Angle touchscreen makes it easy to frame your subject from any angle – whether high, low, 'selfie' or vlog – with a simple tap-to-focus. The improved Dual Pixel CMOS AF allows for fast, accurate, and precise focusing across up to 88% of the imaging area in both photos and Full HD movies. With the built in Wi-Fi and Bluetooth you can easily transfer images to a mobile device and share them on social media.
Discover more here: https://www.canon.co.uk/cameras/eos-m50/
EISA DSLR Prime Lens 2018-2019: Canon EF 85mm f/1.4L IS USM
This unique lens combines built-in image stabilisation with a very large aperture. This combination makes it possible to take handheld pictures in very low-light situations. The lens is built for professional work, with weather sealing and fast and accurate autofocus. The sharpness is improved compared to previous 85mm lenses from Canon, while blurred backgrounds are rendered very attractively. It's a perfect choice for portrait and wedding photographers who are shooting with high-resolution full frame DSLRs.
Discover more here: https://www.canon.co.uk/lenses/ef-85mm-f-1-4-l-is-usm-lens/
EISA photo innovation 2018-2019: Canon Speedlite 470EX-AI
This Speedlite flashgun makes the life of the photographer much easier by taking the guesswork out of bounced flash. The 470EX-AI automatically fires a series of pre-flashes to determine how light can be bounced from a ceiling or wall, and rotates the flash head into the correct position to provide soft and flattering light. Alternatively, the photographer can also manually position the flash head, and the unit will maintain this position even if the camera is rotated. With full E-TTL control, the flash will automatically fire at the right intensity to give perfectly exposed images.
Discover more here: https://www.canon.co.uk/cameras/speedlite-flash-470ex-ai/
Note to Editors:
About EISA: The European Imaging and Sound Association (EISA) is comprised of 53 special interest magazines from 25 countries across the globe. Internationally known for the European EISA awards, it represents the largest editorial collaboration in the world for consumer electronics. EISA has been celebrating the very best products in the industry for over 35 years.