Canon Q1 Financial Results: Imaging Profits Down 80% And It Will Get Worse (Covid-19 impact)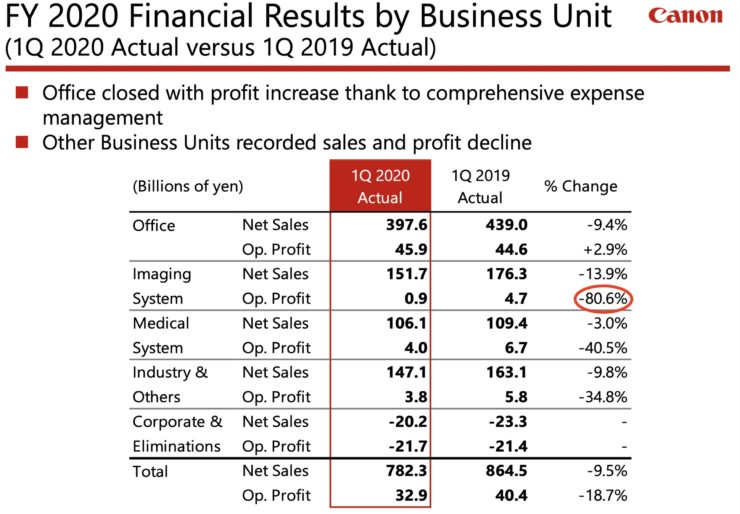 Canon published the company's Q1 2020 financial results, and things look everything but good. Once more it's the COVID-19 impact.
It was clear that COVID-19 would have such an impact on profits of many companies, Canon not excluded. Indeed, the presentation starts with two statements that speak very clearly:
Spread of COVID-19 completely changes global economic landscape
Global economy faces worst recession since the Great Depression
The impact of Coronavirus is huge:
When we announced our projection back in January, due to factors such as the easing of U.S.-China trade friction, the UK avoiding the possibility of leaving the EU without a withdrawal agreement, and economic recovery in emerging markets, we expected the global economic environment to improve while understanding the potential downside risks.

However, the global spread of COVID-19 is casting a long shadow over people's lives and as a result is having an enormous impact on economic activity and changing the face of the world economy. This is also the view of the IMF, who significantly downgraded its 2020 GDP growth projection from 3.3% back in January to -3.0%. This makes the global economy this year the worst since the Great Depression.

Looking back at the first quarter, the impact of COVID-19 first appeared with the suspension of operations at our production sites in China for both office equipment and cameras. Next, due to supply-chain disruptions, we could not avoid a decline in factory utilization rates in Asia, including Japan. As a result, we faced a situation of tight product supply. On the other hand, the impact on the market was initially limited to only some regions, like China, but expanded to other regions, including Europe and the U.S. This put a stop to global economic activity which had a significant impact on our product sales.
Canon operating profits from the imaging branch (cameras and inkjet printers) are down 80%, and Canon foresees even worse scenarios.
Also, from statements all over the financial results material, it's clear that Canon puts a lot of stakes on the upcoming Canon EOS R5 (all information, known facts and rumors listed here).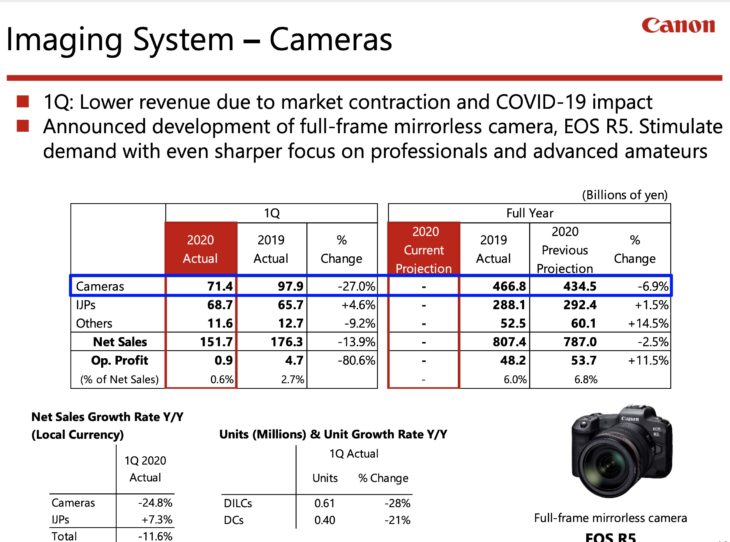 More information and downloadable material about Canon Q1 financial results can be found here.