Canon Released Q1 2021 Financial Results, And It Looks Good (thanks to EOS R5 & R6)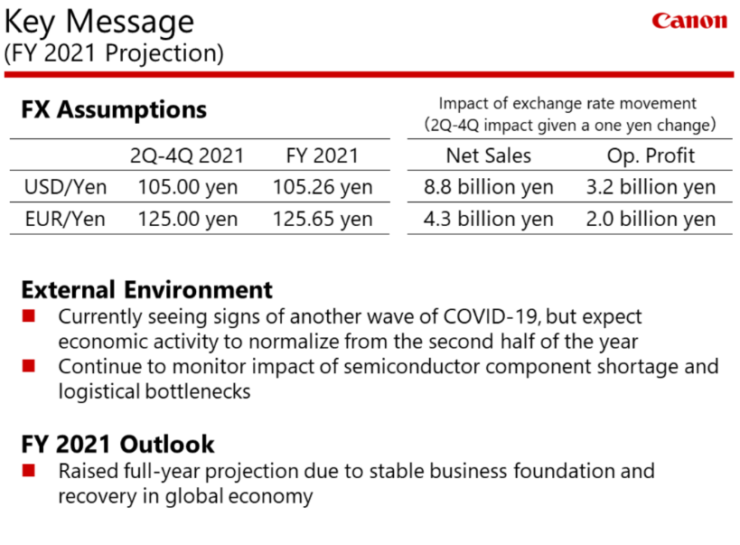 Canon released the company's Q1 2021 financial results. Things look good for Canon and they even increased sales predicitons. The Canon EOS R5 and EOS R6 are driving camera sales.
Here are some excerpts from Canon's presentation material (emphasis mine):
For Imaging, because the size of the camera market is already approaching the number of users that are particular about visual expression, we expect the market to be limited to moderate contraction going forward. As current sales of mainly new products are exceeding our plan, we raised our full-year projection for both sales and profit.

[…]

As for cameras, even amid continued restrictions on people's movement, demand for cameras remains solid, supported by the need for high-quality visual expression. Based on this, we still expect the 2021 camera market to be up slightly or 5.8 million units.

In the first quarter, revenue was significantly higher than last year, as sales remained strong, driven by the EOS R5 and EOS R6 which were launched in the second half of last year. Additionally, the synergy effect of having competitive camera bodies and expanding our lineup of RF lens, which command high margins, led to an increase in average selling prices. This, and the establishment of efficient online sales activities nurtured through COVID-19 is leading to an improvement in profitability.

For the full year, reflecting the situation surrounding sales in the first quarter, we not only raised our projection for camera unit sales by 100 thousand to 2.9 million, but also raised our projection for revenue.

To further strengthen mirrorless camera lineup, in April we announced the development of a new model, the EOS R3, which is equipped with a backside illumination stacked CMOS sensor that achieves high-speed signal processing, which allows for a number of functional improvements such as continuous shooting performance. At the same time, we announced 3 new RF lenses, bringing the total to 22 and we will continue to enhance this lineup going forward. By raising the appeal of the R series, we aim to further raising our market share in the full-frame category and increase sales.

Additionally, for new types of cameras, such as the PowerShotZoom that was launch at the end of last year and has attracted quite a bit of attention for its ease of capturing long-range images with one hand, we are steady creating new markets.
Canon's Q1 2021 documentation and material can be downloaded here. Previous Canon financial results are listed here.