Canon 'See Impossible" Campaign – Canon Answers 5 Questions
Do you remember Canon's See Impossible campaign (and all the sarcasm that followed)?
Brandchannel interviewed Michael Duffett, VP and general manager of marketing at Canon USA about the campaign.
Some excerpts:
bc: While the "See Impossible" campaign has drawn interest from a broader audience, it might be harder to engage your core audience, who focus (so to speak) on core product features and want groundbreaking innovation. How do you balance the two? And moving forward, how do you hope to message towards these die-hard fans who were perhaps expecting more from the countdown?

Duffett: This is a corporate brand effort designed to broaden awareness of the variety of businesses and solutions that Canon is engaged in. With Canon See Impossible we are making the commitment to never stop innovating across any of our businesses, including the photography products we have been historically known for […]
And…
bc: The new microsite is almost devoid of the stunning imagery and photography we have come to expect from Canon branded content. Was this intentional as a kind of blank canvas for customers' creativity? Can you speak to the absence of photography and imagery in your new visual identity?

Duffett: We purposely took a different approach for seeimpossible.usa.canon.com than some of our other sites. Because it is a brand site, not a photography site, we focused on telling lesser-known stories of customers who are already using Canon technology in innovative ways.  And we will continue to highlight those stories in a unique visual style that doesn't rely completely on photography […]
What do you think? Read the interview at brandchannel.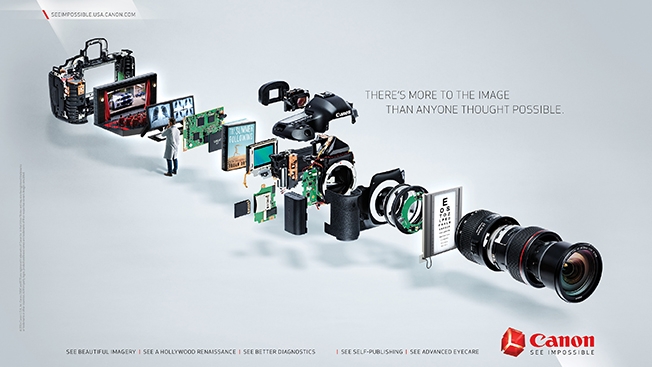 [via 
Brandchannel
]