Canon USA puts latest 4K Digital Imaging Solutions on display at Cine Gear Expo 2015 in Los Angeles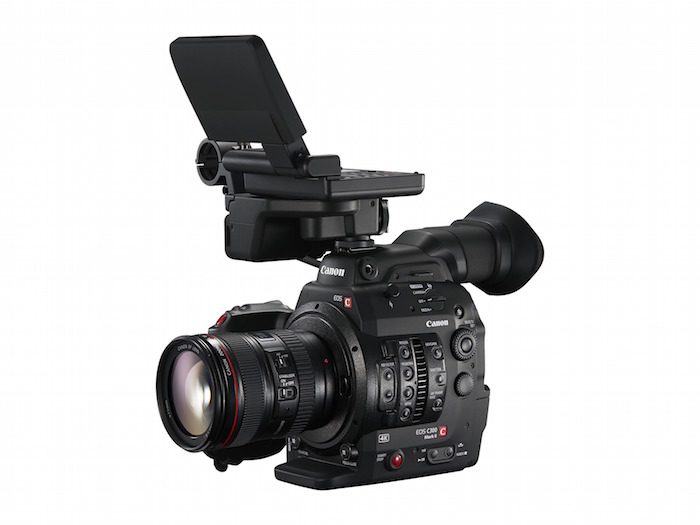 Canon press release:
Canon U.S.A. Puts Its Latest 4K Digital Imaging Solutions On Display At Cine Gear Expo 2015
Highlights Include New EOS C300 Mark II Digital Cinema Camera, XC10 4K Camcorder, and DP-V2410 4K Reference Monitor 
MELVILLE, N.Y, MAY 27, 2015 – Canon U.S.A., Inc., a leader in digital imaging solutions, will showcase its latest 4K digital cinema products for professionals in the motion picture, television production, and video content creation industries in Booth #12 at Cine Gear Expo Los Angeles 2015 from Friday, June 5 through Saturday, June 6.
Located at the Studios at Paramount Pictures in Hollywood, CA, visitors to the Canon booth will have an opportunity to receive hands-on experience with the latest cinema equipment offerings including the new EOS C300 Mark II Digital Cinema Camera, XC10 4K Digital Camcorder, and DP-V2410 4K Reference Display introduced in April. Canon will also have its new CINE-SERVO 50-1000mm T5.0-8.9 ultra-telephoto 4K zoom lens on display, the only lens of its kind in the industry. In addition, the new 50.6 megapixel, high-resolution EOS 5DS and 5DS R Digital SLR cameras will be shown.
In the Paramount Theatre during the Expo will be three Canon-hosted educational panel discussions, featuring industry professionals discussing their craft, and how Canon products have helped power their work. The panel discussion schedule is as follows:
Friday, June 5, 5:30 – 6:30 pm – Amazon Studios' Transparent: Capturing Intimate Scenes in 4K with the EOS C500 Camera featuring Jim Frohna (DP), Corinne Bogdanowicz (Colorist), and Zoe Van Brunt (2nd AC).
Saturday June 6, 12:45 – 1:45 pm – A First Look at the EOS C300 Mark II Camera with Gale Tattersall featuring Gale Tattersall (DP), Tony Gutierrez (1st AC) and Ari Robbins (Steadicam Operator).
Saturday June 6, 4:30 – 5:30 pm – Documentary Panel Discussion featuring Jenna Rosher (DP, "An Open Secret", "Janis: Little Girl Blue"), Svetlana Cvetko (DP, "Brand: A Second Coming", "Inequality for All") and Jerry Henry (DP, "City of Gold").
For more information about Canon at Cine Gear Expo LA 2015 please visit: pro.usa.canon.com/cinegear2015.
About Canon U.S.A., Inc.
Canon U.S.A., Inc., is a leading provider of consumer, business-to-business, and industrial digital imaging solutions to the United States and to Latin America and the Caribbean (excluding Mexico) markets. With approximately $31 billion in global revenue, its parent company, Canon Inc. (NYSE:CAJ), ranks third overall in U.S. patents granted in 2014† and is one of Fortune Magazine's World's Most Admired Companies in 2015. In 2014, Canon U.S.A. has received the PCMag.com Readers' Choice Award for Service and Reliability in the digital camera and printer categories for the 11th consecutive year. Canon U.S.A. is committed to the highest level of customer satisfaction and loyalty, providing 100 percent U.S.-based consumer service and support for all of the products it distributes. Canon U.S.A. is dedicated to its Kyosei philosophy of social and environmental responsibility. In 2014, the Canon Americas Headquarters secured LEED® Gold certification, a recognition for the design, construction, operations and maintenance of high-performance green buildings. To keep apprised of the latest news from Canon U.S.A., sign up for the Company's RSS news feed by visiting www.usa.canon.com/rss and follow us on Twitter @CanonUSA. For media inquiries, please contact [email protected].
###
† Based on weekly patent counts issued by United States Patent and Trademark Office.
All referenced product names and other marks are trademarks of their respective owners.