Canon posted their financial results for 2022. Despite haters, doom-predicting Sony-fanatics, chip supply issues, the ongoing war, and whatever, the company is doing fine.
As for the camera market, Canon says:
As for the camera market, despite concerns that consumer spending will decline, the demand of users, which mainly consists of professionals and enthusiasts – people that enjoy taking still images and videos – remained rock solid. Thanks to this, and the launch of new mirrorless cameras by manufacturers, the market grew to 5.85 million units in 2022, which is also the market size we expect in 2023.

In 2022, our sales were up by 120 thousand units to 2.86 million units, as we added to our lineup the EOS R7 and EOS R10, the first EOS R series cameras that use APS-C sensors. In December of 2022, we launched the EOS R6 Mark II, a full-frame mirrorless camera. This model offers high performance in both still-image and video capture, featuring, among others, enhanced autofocus functions, including subject detection, high-speed continuous shooting of up to approximately 40 frames per second, and high-quality 4K video recording.

In 2023, the new products that we launched last year will contribute to sales throughout the year. In addition to this, to facilitate our aim of 2.9 million unit sales this year, we plan to further strengthen our EOS R series lineup by, for example, introducing models that will broaden our base of interchangeable-lens camera users As for RF lenses, last year we added 7 new models to our lineup which now consists of 33 lenses. Going forward as well, we will continue to expand our RF lens lineup in order to meet
the diverse shooting needs of our users.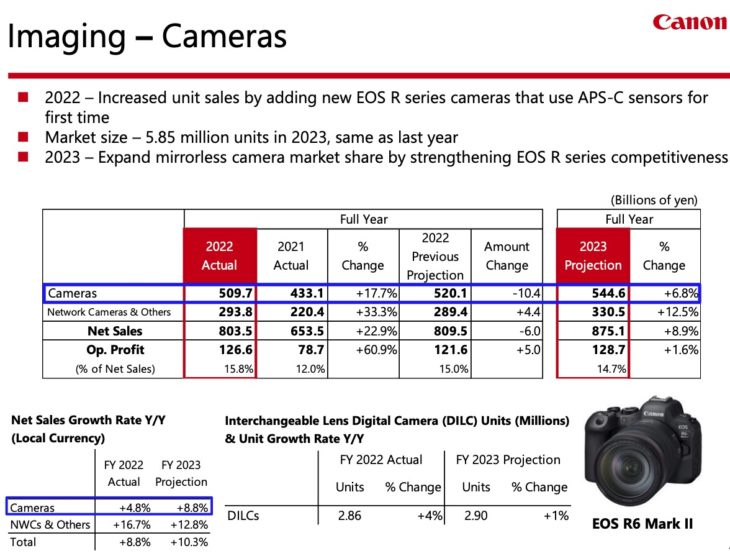 All financial results materials are available here.