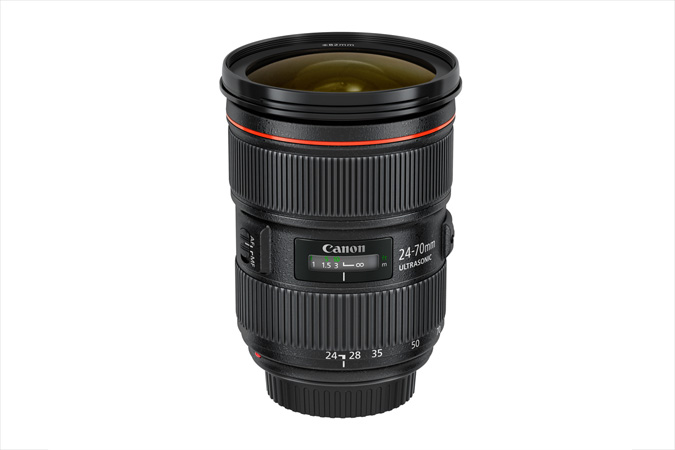 Lighter and smaller than the original, yet solid and sturdy, the EF 24-70mm f/2.8L II is causing lots of discussion, mainly because of the price tag of $2200. Let's start with some first impressions by fstoppers. More detailed is the lens test performed by lensrentals.com (comparison with other similar lenses). The EF 24-70mm f/2.8L II has an outstanding sharpness and resolution:
The resolution absolutely, positively kicks butt and takes names. It is way better than the lens it replaces. It's better at 70mm than the best Canon zoom I know of, the 70-200 f/2.8 IS II. It's even better at 24mm than the sharpest 24mm prime we have, the Canon 24 TS-E. In the center, in the corners, it doesn't care. We only had 5 copies to test, but they were all very similar with little copy-to-copy variation.
Another test comes from borrowlenses.com, with comparisons with other lenses and interactive test charts.
EF 24-70mm f/2.8L II specifications:
Large f/2.8 Aperture Through Zoom Range
UD Lenses Minimize Chromatic Aberrations
Reduced Spherical Aberrations
Highly Resistant to Dust and Water
9-Blade Diaphragm For Beautiful Bokeh
Lens Coatings Minimizes Ghosting
Fluorine Coating Reduces Fingerprints
Zoom Lock Lever For Safe Transporting
EF 24-70mm f/2.8L II price check: B&H Photo, Adorama, Amazon USA, Amazon CA, KEH Camera, BestBuy, Canon CA, Canon USA EF 24-70mm f/2.8 price check: B&H Photo, Adorama, Amazon USA, Amazon CA, KEH Camera, BestBuy, Canon CA, Canon USA