[Firmware] Next EOS 7D Firmware Upgrade Gives You (Almost) A New Camera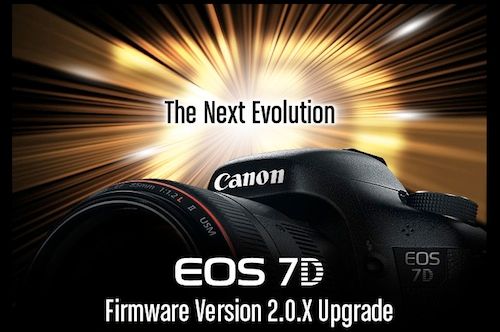 A firmware update for the EOS 7D was rumored, now it is official. Canon dedicated a page to this (major) update. Let's see what it is about with the "next evolution". The update brings some new features, enhances others.
The next evolution of the EOS 7D has arrived! Firmware Version 2.0.X brings the EOS 7D up to speed with the best technologies Canon has to offer, delivering performance and features befitting the flagship APS-C EOS DSLR. Firmware Version 2.0.X keeps the EOS 7D on the cutting edge of technological innovation by adding user-requested innovations developed for Canon's high-end EOS cameras: A higher maximum burst rate for continuous shooting, definable maximum limit for ISO Auto, compatibility with the Canon GPS Receiver GP-E2, and manual audio level adjustment during video shooting and during review. Additional enhanced features include faster scrolling of magnified images, quick control during playback, in-camera RAW image processing, JPEG image resizing and ratings, plus customization of file names and time zone settings. A significant upgrade, Firmware Version 2.0.X raises the performance on one of the most popular Canon EOS DSLRs ever created. Prepare to experience the power of the EOS 7D on a whole new level.
Maximum burst rate was raised to 25 (instead of 15), max ISO Auto has been expanded up to ISO 6400 and now there are 64 manual audio level adjustments. The firmware update will be available in August. See more details, including a video, on Canon's homepage.
EOS 7D price check: [shopcountry 337]
eBay live ticker for EOS 7D deals:
[shariff]