New Firmware Updates for Canon EOS C300 and EOS C100 Available for Download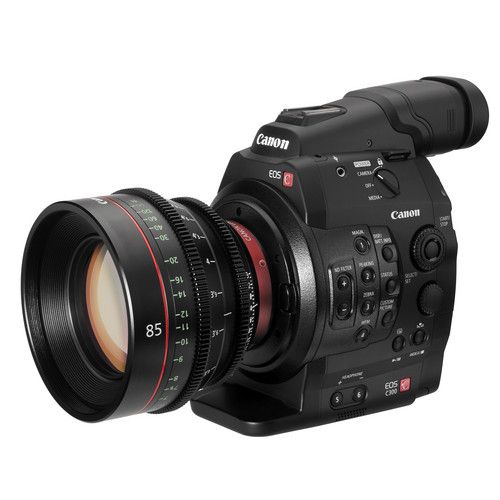 Today Canon released two firmware updates, one for the Canon EOS C300 (click here to download), one for the Canon EOS C100 (click here to download).
The changes for the EOS C100:
1. Ability to move the magnification viewing area around the LCD using the MAGN Function has been added.

2. ISO up to 80,000 has been added.

3. A Key Lock menu setting has been added which now makes it possible to lock all operations, including the START/STOP button.

4. Peripheral Illumination Correction Data has been added for seven (7) Canon Cinema lenses (EF mount) and eleven (11) Canon EF Lenses.

5. Internal camera menus are now controllable from buttons on the camera body. Previously, they were only controllable from the joystick grip unit.

6. In addition to the EF-S18-135mm f/3.5-5.6 IS STM, the function to enable continuous focusing and correct aperture on a subject in the middle of the screen when one of the two EF STM lenses is attached, has been extended to include the EF-S18-55mm f/3.5-5.6 IS STM lens.
Changes for the EOS C300:
EOS C300 Cinema EOS Camera & EOS C300PL Cinema EOS Camera

1. Ability to move the magnification viewing area around the LCD using the MAGN Function has been added.
2. Support for a 1440×1080/35Mbps recording mode.
3. ISO up to 80,000 has been added.
4. Added functionality to support the optional Canon GPS Receiver GP-E1.
5. A Key Lock menu setting has been added which now makes it possible to lock all operations, including the START/STOP button.
6. Using the optional Canon WFT-E6 Wireless File Transmitter, the camera's remote-control application allows two users to access the same unit via a Wi-Fi® link providing simultaneous camera operation and control and metadata input.
7. [Lens Exchange] and [ND+/ND-] have been added as functions that can be allocated to any assignable button.
8. A new Wide DR Gamma setting provides an expanded dynamic range of 800%*.
9. Flicker Reduction has been improved.

EOS C300 Cinema EOS Camera only
10. Provides Push Auto Iris and One-Shot AF operation has been added.
11. A new AE Shift function and the selection of various light-metering modes are now available when used with some Canon Cinema lenses (EF mount) and Canon EF Lenses.
12. Ability to assign the two control dials to operate either Iris or ISO sensitivity independently.
13. Peripheral Illumination Correction Data has been added for seven (7) Canon Cinema lenses (EF mount) and fifteen (15) Canon EF Lenses.

14. A function has been added to enable continuous focus and iris setting on a subject in the middle of the screen when one of the two EF STM lenses** is attached