Interview with the developers and engineers behind the Canon EF 85mm f/1.4L IS lens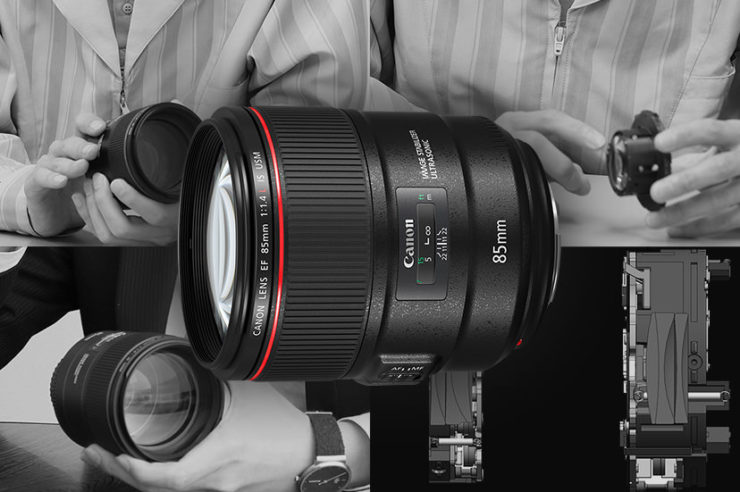 Canon EF 85mm f/1.4L IS at a glance:
EF-Mount Lens/Full-Frame Format
Aperture Range: f/1.4 to f/22
One GMo Aspherical Element
Air Sphere and Fluorine Coatings
Ring-Type Ultrasonic Motor AF System
Optical Image Stabilization
Dust- and Water-Resistant Construction
Rounded 9-Blade Diaphragm
As I wrote many times, the Canon EF 85mm f/1.4L IS is the hottest Canon lens of 2017.
Canon Asia's Snapshot site posted an interview with the engineers and developers who thought, designed and built the Canon EF 85mm f/1.4L IS (price & specs).  The interview comes in two parts, part one is here and part two here. An excerpt from the interview:
When the product planning department requested development of this lens, our development department was initially stumped by the high degree of difficulty in the design. When equipping large aperture lenses with image stabilisation, the arrangement of the focus and image stabilisation groups is an important factor for determining the size and weight of the lens. Lenses with a small f-number (large aperture) characteristically have large diameter glass. The image stabilisation group, which is a part of the optical system, needs to be able to move to compensate for camera shake, which naturally makes the group heavy. An actuating force is also required to drive the group, and this further adds to the lens' size and weight. Therefore, the development team's first impression was that it would be almost impossible to develop the reasonably-sized, appealingly-priced 85mm f/1.4 lens with image stabilisation that the product planning department had requested.
Well, they managed to do it. This lens is a masterpiece. Kudos Canon!
More Ef 85mm f/1.4L IS coverage here. The Canon EF 85mm f/1.4L IS is in stock and sells for $1,599 at Amazon US,  Adorama, Canon Store, and B&H Photo.
More Canon EF 85mm f/1.4L IS order/pre-order links (if available in the respective countries):
America: B&H Photo, Adorama, Amazon USA, Amazon Canada, Canon Canada, Canon USA
Europe & UK: Amazon DE, Amazon UK, Amazon IT, Wex Photo Video, Canon DE, Canon UK