IRIX 150mm f/2.8 Macro Lens Gets An iF Design Award 2019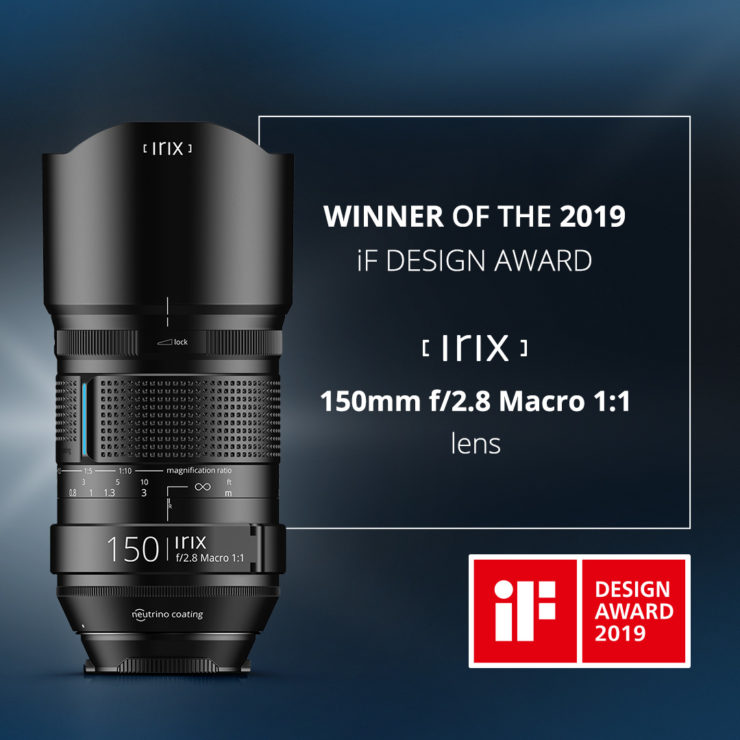 At a glance:
EF-Mount Lens/Full-Frame Format
Aperture Range: f/2.8 to f/32
Neutrino Coating
1:1 Magnification, 1.1′ Minimum Focus
Manual Focus Design with Focus Lock
Depth of Field and Focus Distance Scales
Dragonfly Weather-Sealed Construction
Rounded 11-Blade Diaphragm
The IRIX 150mm f/2.8 Macro lens won an iF Design Award 2019. The IRIX 150mm f/2.8 Macro is available for $595 at B&H Photo | Adorama | Amazon
Press release:
Irix 150mm f/2.8 macro has received a world-renowned design prize
Baar, Switzerland, February 15, 2019
Although it's only three years since Irix arrived on the world market, our team of international photographers – a team who established the Irix brand – are pleased to be the winners of one of this year's iF PRODUCT DESIGN AWARDS, a world-renowned prize for design!
Therefore we are probably one of the youngest photographic companies that have received such an award and recognition from the world's oldest independent design organization, the Hannover-based iF International Forum Design GmbH, a group which organizes the iF PRODUCT DESIGN AWARD.
This award is regarded as one of the most important design prizes in the world, and winning this is a seal of quality for exceptional design.
The winning product, the Irix 150mm f/2.8 macro, was chosen as the best in DISCIPLINE 1.0 Product – TV/ CAMERAS category for 2019!
It's fair to say that this year there has been severe competition for this award. In fact, the jury had to choose the best from among 6,375 entries that had been submitted from 52 countries.
Although the 150mm f/2.8 macro was only recently introduced to the international market at Photokina 2018, this brand-new four-month old lens convinced the 67-member jury of its potential with its extremely compact structure characterized by excellent optical parameters, refined ergonomics, competitive pricing and a unique design.
We are grateful for receiving such recognition. But we're not content in leaving it there.
The Irix brand continues to innovate. We're preparing for the next set of photographic premieres and planning further challenges in the market. There is so much more to come for the photographic community.
With more products that were, that are, and that will be a photographer's dream!
The Irix 150mm f / 2.8 Macro 1: 1 is the most compact and the lightest macro telephoto lens in its class. It is a lens that was designed in cooperation with professional photographers and photography enthusiasts. The uniqueness of the lens lies in not only its use of the highest-class optics and mechanics as designed by South Korean engineers, but also a number of useful functions when shooting; there is a rubberized focus ring for ease of comfort, a patent-pending focus ring lock function, and a detachable Arca-Swiss standard tripod collar ring. The lens is encased in a fully weather-sealed housing.
The optical and mechanical system of the lens has been enclosed in a durable housing made with composite material, which has been strengthened with an Al-Mg alloy and is covered with a black scratch-resistant coating. The abrasion resistant markings have been laser engraved and filled with fluorescent paint, which enables use of the lens in all lighting conditions. The European product design completes the functional protective hardcase, and the aesthetic packaging not only emphasizes the high quality of the lens, but the time and care taken by Irix designers for the smallest of detail.