It's Here: Canon RF 100-300mm f/2.8L IS – $9499 (officially announced)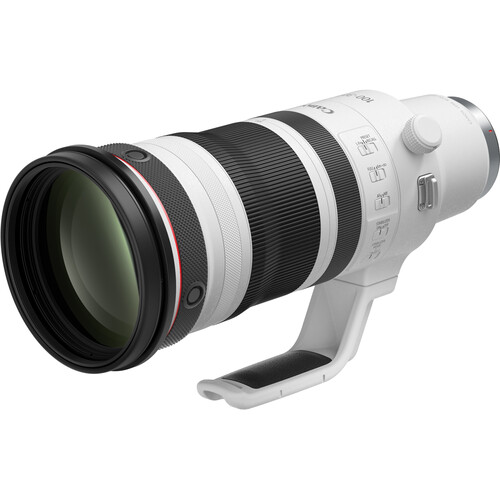 Canon announced the Canon RF 100-300mm f/2.8L IS, a professional grade lens with a pro price.
At a glance:
Telephoto zoom lens that builds on the legacy of the popular EF300mm f/2.8 lens.
Fast f/2.8 maximum aperture throughout the whole zoom range for great control over depth of field, bokeh, and low-light shooting with fast and reliable autofocus.
Excellent image quality: highlights include one flourite lens, and 4 UD (Ultra-low Dispersion) glass elements, flourine coating, and Canon SSC (Super Spectra Coating) to minimize ghosting and flare.
Built-in function/focus preset selector switch allows you to program a focus preset recall into the buttons at the front of the lens.
Optical image stabilization — up to 5.5 stops* of shake correction. Up to 6.0 stops Coordinated IS when paired with EOS R series cameras featuring In-Body Image Stabilizer (IBIS).
2 Nano USMs achieves outstanding image quality throughout the focusing range, from infinity to close-up thanks to 2 focusing groups that are independently actuated.
Dedicated, programmable Control Ring, with click-stop operation.
Impressively light at only 5.8 lbs., which makes it the lightest f/2.8 zoom lens with a 300mm focal length on the market.**
Circular (9 blades) aperture for beautiful, soft backgrounds.
The Canon RF 100-300mm f/2.8L IS sells at $9,499. Preorders are open.
America: B&H Photo, Adorama, Amazon USA, Amazon Canada, Canon Canada, Canon USA
Europe & UK: Amazon DE, Amazon UK, Amazon IT, Canon IT, WEX Photographic, Canon FR, Canon UK, Canon DE

Here is some stuff about the lens.
Press release:
Canon Introduces the RF100-300mm F2.8 L IS USM to Its Lens Lineup
The new lens combines the flexibility of a zoom lens with the quality of a telephoto lens
MELVILLE, NY, April 20, 2023 – Today, Canon U.S.A., Inc., a leader in digital imaging solutions, announced the launch of the RF100-300mm F2.8 L IS USM lens, answering calls from photojournalists and professional level customers for a modern 300mm f/2.8 equivalent lens.
"This lens is an absolute game changer! It gives you the most incredible range, but without sacrificing the f/2.8 aperture. To have this kind of performance at your fingertips is incredible!"
Roberto Valenzuela, fashion and wedding photographer
For decades, the 300mm f/2.8 telephoto lens has been an industry standard for photojournalists, professionals, and aspiring enthusiast photographers due to its outstanding image quality, excellent speed for indoor shooting, and relatively light weight for hand-holding. Now, with the launch of the RF100-300mm F2.8 L IS USM, Canon delivers the flexibility of a zoom lens design with the truly outstanding quality of a 300mm f/2.8 L-series telephoto lens. Exceeding the reach and potential of traditional 70-200mm lenses, and adding zoom flexibility to its Canon EF 300mm f/2.8L IS predecessor, the RF100-300mm F2.8 L IS USM lens brings new value to customers with the following features:

Wide Focal Range — 100-300mm range
Extended Zoom — Optional RF1.4x and 2x extenders are supported with this lens, enabling a zoom range of up to 600mm
Spectacular Image Quality — f/2.8 constant wide aperture; Fluorite Aspherical and UD-glass design
Reliable Stabilization — Up to 5.5 stops correction with in-lens Optical Image Stabilization and up to 6.0 stops correction with in-body coordinated Image Stabilization (CIPA standard)
Weather and Dust Resistant — Durable in various environmental conditions
Compact and Lightweight Design — Despite capabilities to zoom over 300mm, this lens is unusually lightweight, just barely heavier than the EF300mm f/2.8L IS II
"I love this lens! It's incredibly lightweight, versatile, and sharp. Toss on the 2x extender and you can snipe gorgeous frames at a distance, especially with the built in image stabilizer. This lens is going to change the game for live concerts, weddings, and so much more."
Ben Hagarty, Grammy award-winning cinematographer

This telephoto zoom lens is ideal for professionals who use a Canon EOS R3, EOS R5 or EOS R6 Mark II full-frame mirrorless camera, but can also be a catalyst for users who have developed into serious, aspirational enthusiasts and are looking to step beyond their traditional telephoto lens experience. Best use cases include, but are not limited to, indoor sports, motorsports, outdoor fashion, video and cinema, photojournalism and theater work. For high-level shooters and videographers particularly working in low-light settings and seeking a hand-holdable solution, this lens provides the total answer.