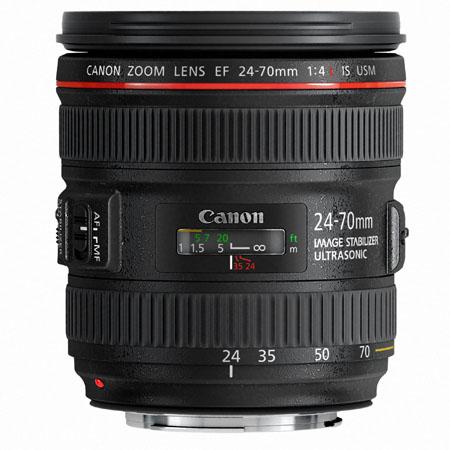 The Canon EF 24-70mm f/4L IS USM (price & specs) is the standard choice for many pros using Canon full-frame cameras. The lens has image stabilization, macro features and an ultrasonic motor for AF. Although it has a price tag of $1499 it is still cheaper than the heavy discussed Canon EF 24-70mm f/2.8L II USM (price & specs), which comes at $2199. If you can live without the f/2.8 (but there is Canon's excellent IS instead) this lens may be the right glass on your full-frame DSLR (like the entry level Canon EOS 6D (price & specs), the cam used to test the 24-70 f/4).
Photography Blog reviewed the 24-70 f/4 posting an exhaustive review (check the various sections about the lens' sharpness, samples images here). In the conclusion they write (emphasis mine):
Given its L-series billing, the Canon EF 24-70mm f/4L IS USM build quality is reassuringly excellent and it makes a perfect partner to a full-frame Canon DSLR like the EOS6D that we tested it with. Auto-focusing is quiet and quick, with the ability to manually override it and focus manually if required proving a nice touch. The capable image stabilisation system used in conjunction with a high-ISO monster like the 6D is a low-light shooter's dream ticket, making it easy to hand-hold the camera and get the shot, despite the relatively slow maximum aperture of f/4.
Canon EOS 6D price check:  B&H Photo, Adorama, Amazon USA, Amazon CA, KEH Camera, BestBuy, Canon CA, Canon USA
[via Photography Blog]