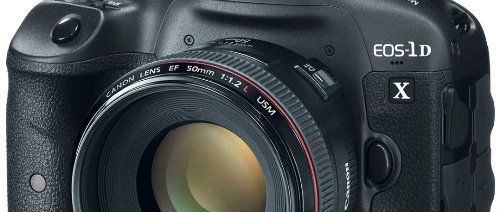 ephotozine reviewed Canon's professional flagship, the Canon EOS-1D X (price & specs). Highly weather-sealed body, an advanced AF system, plenty of controls, outstanding low light performance. This toy has everything a professional photographer may wish. In the verdict they write:
If you're looking for the ultimate in speed, image quality, and performance, as well as exceptional low light performance then the Canon EOS 1D X certainly delivers in abundance. With extremely high ISO settings available it's possible to shoot in low light situations hand-held where you would normally have to setup a tripod and timer, as long as you don't mind using these higher ISO settings.

[…]

The Canon EOS 1D X gives the best low light high ISO performance of any full frame Digital SLR yet! One of the biggest negatives about this camera is the price, with the Canon EOS 1D X being one of the most expensive full frame Digital SLRs available, however, for those seeking the ultimate in speed, and low light performance, the price will be justified, assuming you have the budget for it.
They list the following pros:
Exceptional high ISO performance
Excellent image quality
2 year warranty offered on Canon Pro bodies
Extremely solid build quality
Large, bright optical viewfinder
Fastest shooting full frame DSLR available
Large bright optical viewfinder
Great 3.2inch screen
High speed focus
and cons:
Size, Weight
Expense (Nikon D4 cheaper)
Lacks in camera HDR of following models
The EOS-1D X got a "highly recommended" rating. Canon EOS-1D X price check: [shopcountry 4119] [via ephotozine]