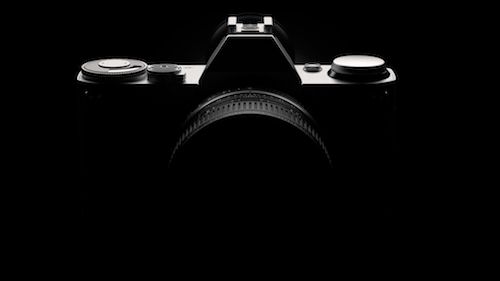 I report and sum up the Canon mirror-less news i got in the last few days. My source told me that a Canon mirror-less camera will indeed be announced next month, in June. I've been told that the camera will  have a 4:3 ratio sensor and that it looks a little like Nikon's V1 (but will be much much better a camera than the V1 :-) ). This means it will could have the sensor of the PowerShot G1 X (good!) and it will have a modern look, not vintage-style as other mirror-less cams. Unlike most of the renderings and concepts we saw floating around the Web in the last months, the upcoming Canon mirror-less cam will not be a vintage designed range-finder camera. In other words: it will not look like the Fuji X100 or the Olympus E-M5.
No mention so far about the lens-mount it will have. I wonder if the pancake lens I reported about yesterday has something to do with the upcoming mirror-less system camera by Canon. I mean: a pancake lens seems to be made for ILCs, but will it mount natively or will it need an adapter? That's a big question in my opinion. There is such a lot of outstanding Canon lenses that I really hope Canon will deliver an easy yet fully functional way (read: adapter) to use these lens on its upcoming Interchangeable Lens Camera. I heard also some rumors saying that the camera will/could have an EF-S mount. Given the race to always smaller ILC bodies, I think this is not very plausible. But then: who knows.
What follows are my very own thoughts about the whole Canon mirrorless 4/3 thing:
I hope Canon will make a light-weighted camera – I always had DSLRs, and as much as I like them, I do not like the bulk that comes with them
Let us use the whole range of EF lenses in their full functionality (i.e. all features including IS and AF, camera controlled aperture and exposure)
We want the EF-adapter, do not overprice it!
Give us full cross-compatibility with the EOS system
Give us some light and small prime lenses (and maybe a couple of zooms) made specifically for the ILC
Give us a cool kit lens, but make it really cool & smart
Give us an ILC with high ISOs, and with good high ISO performance (Canon, you can do it!)
Please keep the price at a reasonable level, at least lower than $800 (kit lens included) – The PowerShot G1 X is a fine camera with an outstanding lens, but a little overpriced IMHO
And finally: surprise us with an amazing sensor. Canon has so much sensor science and skills, they can do it.
There is only one thing given for granted: June will be a hot month for Canon fans! :-)