Sony a7R IV vs Sigma fp vs Canon EOS R vs Canon EOS RP Size Comparison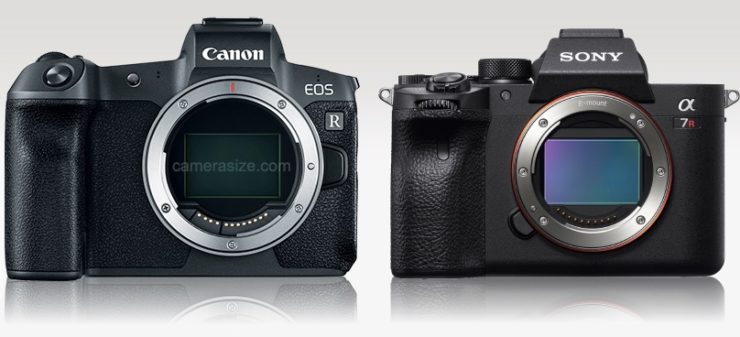 Let's see how the brand new Sony a7R IV compares to the competition when it comes to size and bulk.
Below is the size comparison (from camerasize.com) between the Sony a7R IV, Sigma fp, and Canon EOS R.

Size comparison between a7R IV, Canon EOS R, and Nikon Z6:

And a size comparison between Sigma fp, Canon EOS R, and Canon EOS RP:

And between EOS R, EOS RP, and a7R IV:

It's amazing how small and compact the Sigma fp is (while still having a full frame sensor). I do not know how the Sigma fp will look and can be handled with a telephoto lens attached, but it definitely looks cool with its diminutive form factor.
And what to say about the new a7R IV? Impressive at least. Guess the a7R IV is the new reference standard for the competition. While I am happy that Canon only releases thoroughly tested gear (which as good as never lets you out in the rain, or overheats and turns off), I also wish they could push technological innovation a bit more (especially on the specifications/feature side of things).
Sony a7R IV preorders are open at B&H Photo | Adorama | Amazon
Sigma fp preorders at B&H Photo | Adorama
Canon EOS R:
America: B&H Photo, Adorama, Amazon USA, Amazon Canada, Canon Canada, Canon USA
Europe & UK: Amazon DE, Amazon UK, Amazon IT, Canon IT, WEX Photographic, Canon FR, Canon UK, Canon DE

Canon EOS RP:
America: B&H Photo, Adorama, Amazon USA, Amazon Canada, Canon Canada, Canon USA
Europe & UK: Amazon DE, Amazon UK, Amazon IT, Canon IT, WEX Photographic, Canon FR, Canon UK, Canon DE

[via
Camera Size
]