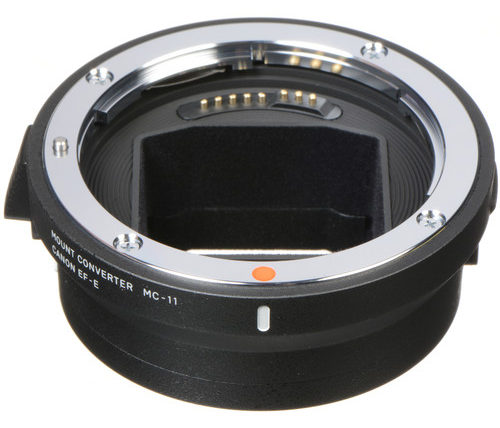 Sigma MC-11 at a glance:
Adapt SA/EF-Mount Lens to Sony E Body
Integrated LED Displays Compatibility
Maintains Autofocus and Auto-Exposure
Supports In-Camera Correction Features
Flocked Interior Reduces Reflections
Retains EXIF Data
Sigma released a service notice for the Sigma MC-11 mount adapter (Canon EF or Sigma SA lenses to Sony E camera bodies) on Auto-Focus issues that may occur when using AF-S mode with telephoto lenses on a Sony a9.
Thank you for purchasing and using our products.

We have found that the combination of SIGMA MOUNT CONVERTER MC-11 (SA-E and EF-E) and some of SIGMA's interchangeable zoom lenses may not focus precisely, if it is attached to SONY a9 (ILCE-9), released by SONY in May in 2017.

When using AF-S mode and shooting in telephoto range, it could occasionally display the shot is in focus, although it may not be spotted properly on the subject.

We are afraid of this inconvenience caused to the customers who use these products.

We are now investigating the phenomenon and will make a further announcement on the website shortly.

We appreciate your continued support for our company.

For further information, please contact your nearest authorized SIGMA subsidiary / distributor.
http://www.sigma-global.com/en/about/world-network/
Using big white Canon telephoto lenses with the MC-11 adapter on a Sony a9 may lead to such AF issues. You may want to have a look here.