Canon EF 85mm f/1.4L IS developers talk about the craft behind the lens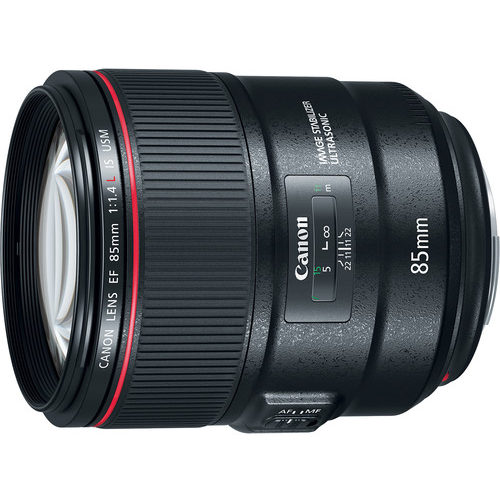 The Canon EF 85mm f/1.4L IS is in stock and sells for $1,599 at Amazon (world wide), Adorama, Canon Store, and B&H Photo.
Canon Europe posted an interview with the engineers who conceived and designed what is universally seen as the most exciting Canon lens of 2017, and as another optical masterpiece by Canon. The interview appears to be a slightly modified version of an interview posted December 2017 on Canon Asia's Snapshot site (with more sample images).
The interview starts with Mr. Yamaguchi, Canon's Product Planning Lead, next is Mr. Iwamoto, Canon's Optical Design Lead, and finally Mr. Okuda, Canon's Mechanical Design Lead.
Excerpt from the interview with Mr. Yamaguchi:
During the planning of the EF 85mm f/1.4L IS USM, we talked with many professional photographers, including wedding photographers, who would have many opportunities to use this lens. They told us that EF 85mm f/1.2L II USM is highly valued for its excellent expression and bokeh thanks to its large aperture. Being a heavy lens, however, it's easy to get tired with extended use, and the autofocus speed is not necessarily satisfactory. Some said that even though it's a large aperture single focal length lens, the addition of image stabilisation would allow worry-free shooting.
Excerpt from the interview with Mr. Iwamoto:
We focused on striking a balance between clarity of resolution for the centre of the screen that's a feature of an L lens and the beautiful bokeh on the edges, ideal for popular portrait compositions with subjects in the centre of the frame, while taking realistic weight, size and cost into consideration.

[…]

In order to reduce the size of the entire lens, both the focus group and stabilising optical system must be lightweight and only move a small amount. For this lens, we used the following new optical arrangement from the front of the lens: the front group, the focus group, the diaphragm, the stabilisation optical system and the rear group.
Excerpt from the interview with Mr. Okuda:
Using highly durable ball bearings in the drive mechanism for this lens reduces load and improves resolution and accuracy. The use of ball bearings also contributes to high-speed autofocus. The heavy focus lens group must be driven with the limited power of the motor, but the focus lens can be driven quickly since the ball bearings reduce the load.
The interview comes with a lot of very interesting images of the interiors of the EF 85mm f/1.4L IS. Definitely worth to read. Read Canon Europe's article "The craft behind the Canon EF 85mm f/1.4L IS USM lens".