Canon EOS C200/C200B firmware update released (ver. 1.0.2.1.00)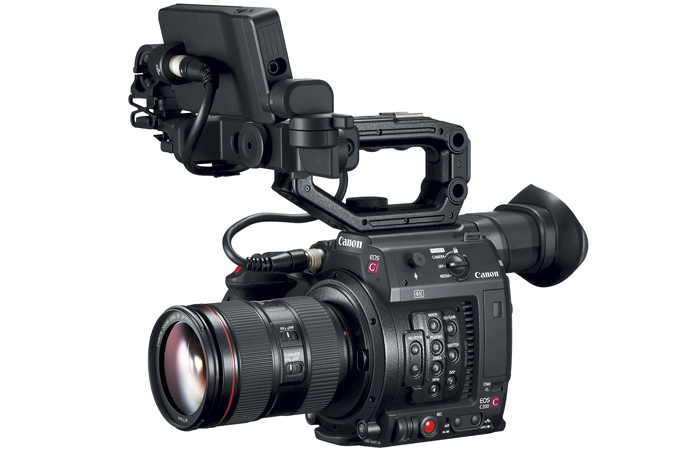 Canon released a firmware update (version 1.0.2.1.00) for the Canon EOS C200/C200B Cinema cameras.
Firmware Version 1.0.2.1.00 incorporates the following enhancements:
When CN-E70-200mm T4.4 L IS KAS S is attached the following features are enabled:
Autofocus using the Dual Pixel CMOS AF function
Dual Pixel Focus Guide function.
The joystick on the camera's grip unit can be set to operate the zoom.
Manual control of the iris with Camera's Control dial.
Control of focus, zoom and iris using the separately-sold Remote Controller RC-V100.
Automatic aperture and push auto iris functions.
Start/stop recording on the separately-sold lens grip ZSG-C10.
Retrieval of Lens metadata, such as the model name and the focal distance will display on the camera.
Peripheral illumination / chromatic aberration correction.
Caution:
You cannot perform the firmware update using CFast 2.0 cards. Please use a commercially available SD/SDHC/SDXC memory card that is 128MB or more for the firmware update.
Firmware version 1.0.2.1.00 is for updating Cinema EOS C200 cameras running firmware version 1.0.0.1.00 – 1.0.1.1.00. If your camera's firmware is already version 1.0.2.1.00, it is not necessary to update the firmware. Once the camera is updated to the latest version, it cannot be restored to a previous version.
For further information, please refer to the latest version of the unit's Instruction Manual that is released with the firmware update.
Download Canon EOS C200/C200B firmware 1.0.2.1.00 here.