Canon Explains The Advantages Of The Larger Mount On The Canon EOS R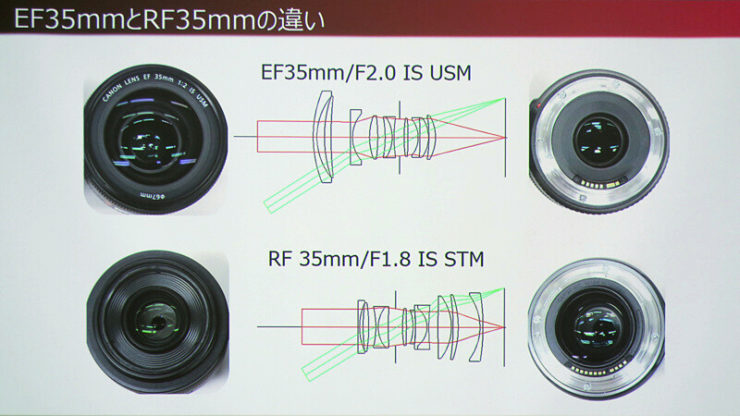 DCWatch posted some information about an internal Canon presentation.
The benefits and advantages of the large diameter of the RF mount featured on the Canon EOS R are discussed. The main reason is that the RF mount allows for a new and improved lens design.
Apparently, Canon had a try to use the EF M mount for their EOS R full frame mirrorless camera (machine translated text):
Initially, Canon also considered to realize a 35mm full size with the EF-M mount of the APS – C mirrorless "EOS M" series, but satisfactory results were not obtained, such as no performance aimed at . And since the system becomes large when unnecessarily increasing the mount diameter, we actually designed multiple lenses, decided to 54mm while looking at the balance of optical merit and size, the strength of the camera and so on.
This didn't work out well, as it seems.
Canon sees these main advantages of the larger mount:
more flexibility on where the optical elements have to go
larger elements can be placed closer to the sensor
lenses are easier to design
complex lenses like the RF 50mm f/1.2L and 24-70mm f/2L are feasible
vignetting and other optical issues are better controlled
Note that while most of the above points would have been technically done also with the EF M mount, Canon clearly decided to go for the new mount type on the Canon EOS R because of the many advantages.
Some rumor outlets still push the rumor that Canon might release an APS-C model in the EOS R line-up; that's not going to happen.