So now it is official. The much awaited Distagon T* 2,8/15 super wide angle lens has been officially announced by Zeiss (product flyer here). Adorama is the first shop I found that is accepting pre-orders (click here). Technical specifications:
Focal length
15 mm
Aperture range
f/2.8 – f/22
Focusing range
0.25 m – infinity
Number of elements/groups
15/12
Angular field, diag./horiz./vert.
110° / 100° / 76°
Coverage at close range
340 x 221 mm
Filter thread
M95 x 1.0
Dimensions (with caps)
ø 103 mm, length 132-135 mm
Weight
730g-820g
Camera mounts
F Mount (ZF.2)
EF Mount (ZE)
In Zeiss' own words:
Infinitely wide horizons, cramped interiors or small objects in large surroundings – with the Distagon T* 2.8/15, all photographers can deliberately orchestrate extreme perspectives. With a field angle of 110°, the super  wide angle is the ideal companion when it comes to capturing events in a way that makes them dynamic and extraordinary. Whether salt crystals or drops of water – its integrated lens shade and standard filter thread afford the front lens optimal protection from wind and weather.

The technically impressive features of the Distagon T* 2,8/15 include extraordinary chromatic aberration correction and the prevention of color fringes caused by chromatic aberration almost without exception. Two aspheric lenses, special types of glass with exceptional partial dispersion and the floating elements design, guarantee high image quality from close-up to infinity. The Carl Zeiss T* anti-reflective coating and the advanced treatment of the lens edges with special dark black lacquers ensure insensitivity to reflections and stray light.
And there is already a first review of a production model by our friend Chris Gampat over at thephoblographer.
It's a huge and massive lens (820g), with a solid lens hood made of metal (as well as the lens cap). Chris is enthusiastic about features and perfomance. Distortion is well controlled and color rendition is exceptionally good. Chris' conclusion:
At the time of my writing this conclusion, I have spent quite a while with the lens. I've had a ton of fun with it. With that said though, I'm going to fire off a couple of quick remarks. First off, I would personally never shoot this wide. This lens is meant for architecture, landscapes, events and scenic shooting. If you're out there making money from your landscapes and architecture, then I want to tell you to go search around the internet for pre-orders (ships in May), get your credit card in hand, and purchase this lens for $2,948.00. The build quality and image quality is spectacular. The fact that Zeiss was able to create such a lens with little vignetting, distortion, and yet maintain such remarkable sharpness is very praise-worthy in my eyes and on my calibrated screen.

Like most Zeiss lenses, the color rendition is best when shot wide open. Thankfully the lens also has an AF confirmation chip; which makes it a true beaut.

My only major complaint is there this lens lacks the bucketloads of micro-contrast that the other Zeiss lenses have that therefore make the subject in focus pop out of the image with a nearly 3D-like effect.

Otherwise, it is a very large lens; but it has to be due to the design.

In the end, I can only give this lens my highest recommendations to landscape and architecture photographers.

But for me: who shoots portraits and events; the company has other options that are more attractive.
They made also a sample video using the Distagon T* 2,8/15:

The review is truly worth to be read, and comes with lots of sample pics and a set of samples that cover the aperture range of the lens.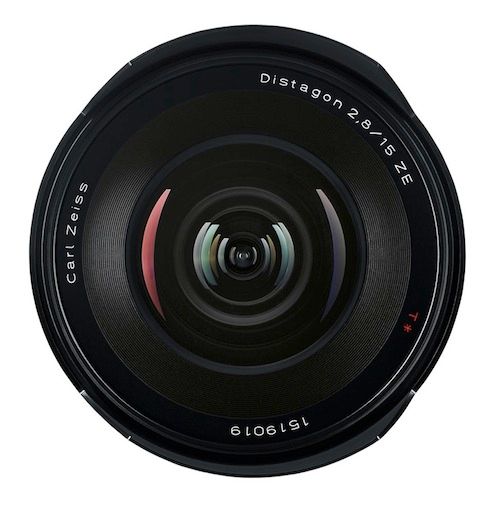 Finally, Zeiss' press release:
Carl Zeiss brings out a new super wide angle lens in May 2012. The super wide angle Distagon T* 2,8/15 will be available with an EF (ZE) or F bayonet (ZF.2). With an extra-large angle of view of 110 degrees in combination with a fast f/2.8 aperture, the lens enables the features for dramatic perspectives and performance demanded by the most ambitious landscape and architectural photographers. With a unique ability to capture events in a natural and extraordinary manner, it is also an ideal companion for advertising, journalism and commercial photography. 
Thanks to the extreme angle of view of the lens, the fore- and background can be creatively emphasized in landscape and architecture photography. These applications will also benefit from the large depth-of-field, which provides a wide range of image sharpness from close-up up to infinity. With a close focus of 0.25m (10") – combined with a wide angle view – photographers can work in tight spaces, while also allowing focus on close-up details. Distortion is extremely well controlled, producing naturally proportioned photographs which are not typical of many other super wide angle lenses. "With the Distagon T* 2,8/15, Carl Zeiss sets the standard in super wide angle photography," says Dr. Michael Pollmann, Consumer Lenses Program Manager in the Camera Lens Division of Carl Zeiss AG. "Even at full aperture it achieves outstanding detail rendition and opens up room for extremely imaginative design."
The Distagon T* 2,8/15 incorporates two aspheric lenses and special types of glass material with abnormal partial dispersion to provide an extraordinary correction of chromatic aberration. A floating elements design guarantees high image quality from close-focus through infinity. Like the other SLR lenses in the ZE and ZF.2 series, stray light and reflections are well controlled by the Carl Zeiss T* anti-reflective coating and the sophisticated treatment of the lens element edges with special light absorbing paint. 
The robust all-metal barrel of the Distagon T* 2,8/15 is designed for decades of reliable service. A long focus rotation and buttery-smooth action is perfect for photographers who want to take control of their picture making, as well as for filmmakers looking for superior focus control. A nine blade aperture provides a nearly circular opening, producing natural looking out of focus details.
The lens shade is integrated into the design and helps to protect the lens surface from unintentional damage. The 95mm filter thread accepts all standard filters, including the recently released Carl Zeiss T* UV and POL filters. 
The lens will begin shipping in May 2012 at a recommended retail price of €2,148 or US$2,948 (excluding VAT)*.