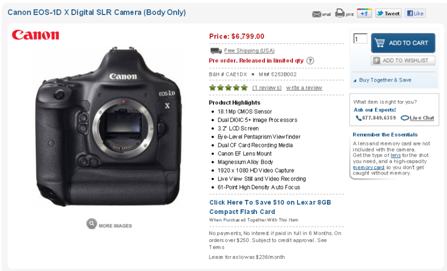 Right now B&H told me that they have the Canon EOS 1D X ready for pre-order (click here). Price is $6,799 and it will start shipping by the end of April.
EDIT: Adorama is also accepting pre-orders for the 1D X (click here)
CPN (Canon Professional Network) has a good article about Frits van Eldik shooting an F1 event with a EOS 1D X. Have a look here to read about the technical specifications of Canon's next flagship, or read this to get more insight. Canon's 1D X page is still a work in progress (no manual for download yet), but for sure worth to have a look.
The guys over at techradar (video above) have a hands-on review with lots of details (click here to read). Another hands-on os provided by imaging-resource. And, hey!, even Wikipedia has an entry for the 1D X :-).