[CW2] Canon Rebel SL2 coming Fall 2015 (24MP, smaller than SL1)?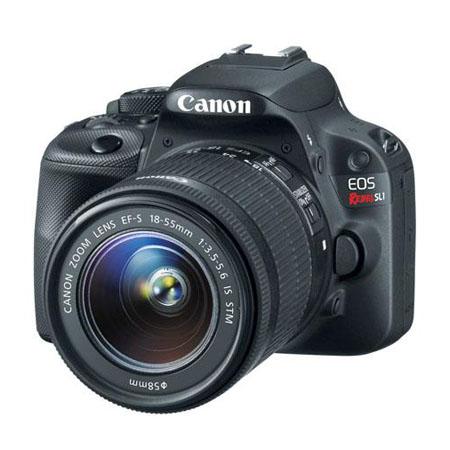 Some rumours about the Canon Rebel SL2 surfaced. Canon Rumors reports:
We're told that an SL2 is definitely on the way and may be shrunk even further. While the thickness of the camera can't change all that much because of the EF mount, the length, height and weight could be further reduced. One of the ways to reduce the size is implementing an EVF instead of an optical viewfinder. Sony has done this with the A77 DSLR, and Canon has said when the technology is good enough, they may also introduce it into the EOS lineup.
Except for the EVF (Electronic Viewfinder) I think these are plausible generic specs, though it is not clear if the EVF is part of the rumor or just a speculation by CR. I can't see the point in featuring an EVF on a DSLR, I think it is better suited and makes more sense on a mirrorless camera. The Rebel SL1/100D is (or was) the world's smallest DSLR and it is nothing but a logic evolution if Canon shrinks the SL2 even further.
It is safe to assume that the Rebel SL2 will have the same 24MP sensor featured on Canon's recent Rebels, the EOS 760D/Rebel T6i and EOS 750D/Rebel T6s (read about the sensor issue).
What about the name? While it is pretty sure that the SL1 replacement will be named SL2 in the US, there are still no reliable rumours about the EU and Asia names. In EU it could be EOS 150D.
[via 
CR
]
About our rumour rating:
CW1 – probably fake rumor, not reliable (less than 15% chance to be real)
CW2 – rumor from an unknown/new source, but otherwise at least a plausible rumor (15%-40% chance to be real)
CW3 – around 50% chance to be real, coming from a known source, or from new source with good insight in Canon's business
CW4 – rumor from a known source that was right in the past, high probability to be true (60%-80% chance to be real)
CW5 – as good as certain to be true