More about Canon Rebel T6i and T6s sensor issue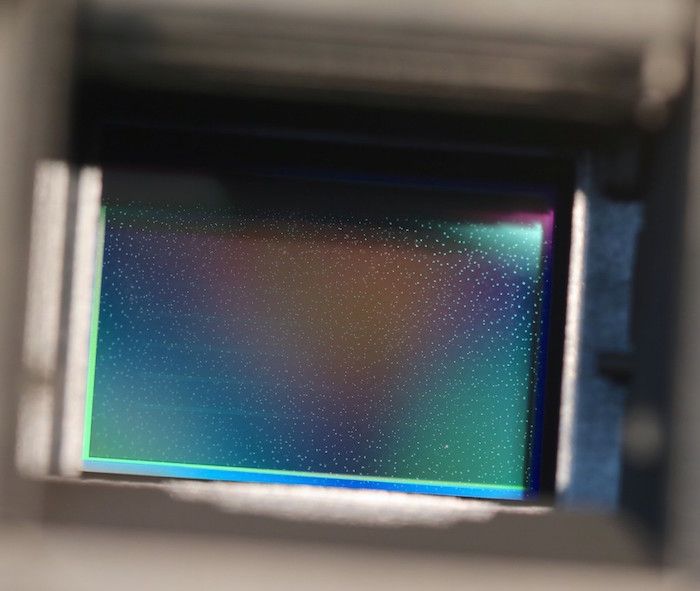 More tests and information about the sensor issue observed on some Rebel T6i and T6s samples. If you still didn't hear it: the sensors of some Rebel T6 models have a visible pattern of dots on the sensor. The issue was first observed by Roger Cicala of Lensrentals.
Imaging Resource got an affected camera and did some tests to see where the dots are on the optical plane, how much the issue affects photos (not much it seems), and why the dots are where they are.
The good news is, the issue doesn't appear to affect photos that much.
Probably the first question to answer is how much these flecks will affect your photos. The answer seems to be not a whole lot, and if you're shooting at f/8 or f/11 and below, you probably won't see them at all.
It is not clear where exactly the dots are located. IR found…
[…] that the white flecks were in fact somewhere inside the optical stack; the shifts in focal distance mentioned above showed the flecks to be about 1.7mm behind the front surface of the stack, and about 2.5mm above the surface of the sensor itself.
While this is obviously a miss in quality control, everything concerning how it happened is unknown. We have to wait for Canon to discover what happened.
Should you be worried? Not really. The percentage of affected Rebel T6 may be around 30%, and it doesn't appear to affect pictures too much. You can easily see if your Rebel T6 sensor has the problem. Shine a bright lights into the mirror box, on your sensor (see pic on top). Turn around the light to try different angles. If the dots are there you'll see them easily. If you do not see them, your T6 is not affected. Should you have one of the Rebel T6 with the sensor issue return it to Canon for replacement. Canon is actually investigating the issue.
Head over to Imaging Resource for more details and test shots. Do you have a Rebel T6? Do you have the issue?