More Third Party Lenses Coming To The Canon EOS M: Sigma 16mm, 30mm, and 56mm F/1.4 DC DN Contemporary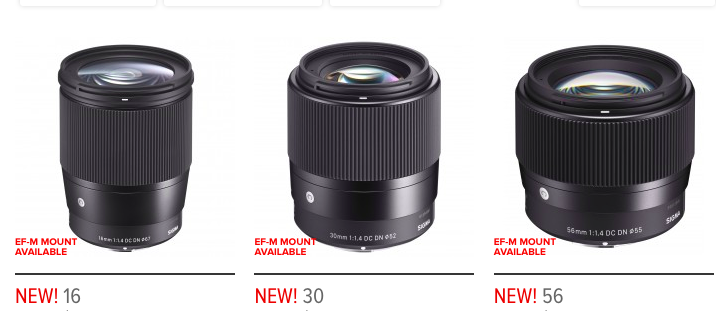 Sigma announced they will port three f/1.4 lenses to the Canon EOS M system, the Sigma 16mm, 30mm, and 56mm F1.4 DC DN Contemporary lenses
Sigma press release:
Sigma Ships Its F1.4 Mirrorless Trio Contemporary Lenses in Canon EF-M Mount
Ronkonkoma, NY – October 4, 2019 – Sigma Corporation of America, a leading camera, photography lens, cine lens, flash and accessories manufacturer, today announced that its 16mm F1.4 DC DN Contemporary ($449 USD), 30mm F1.4 DC DN Contemporary ($339 USD), and 56mm F1.4 DC DN Contemporary ($479 USD) lenses are now shipping in Canon EF-M mount.
Key Features and Benefits of the F1.4 Mirrorless Trio
Sigma's F1.4 Mirrorless Trio, 16mm, 30mm, and 56mm F1.4 DC DN Contemporary lenses, all benefit from a fast aperture of F1.4 to achieve sufficient amount of bokeh and admirable brightness even with APS-C size cameras which tend to have smaller bokeh effects compared to 35mm full size systems. Their compact and lightweight body is perfect for daily use as they cover the range from true wide angle to normal to portrait. Stepping motors ensure smooth, swift, quiet, autofocus for both still and video capture. In addition to Canon M-mount, these products are available for Sony E-mount and Micro four thirds camera systems.
For full product details and technical specifications, please refer to the official press release here.
See the M-Mount F1.4 Mirrorless Trio at PhotoPlus 2019
In addition to Sigma's full lens lineup, attendees to the 2019 PhotoPlus Expo in New York City can see the all new Sigma 16mm, 30mm, and 56mm F1.4 DC DN Contemporary lenses in M-mount on Sigma booth #837.