Yongnuo YN-E3-RT In Stock (first ever third party trigger for Canon RT technology)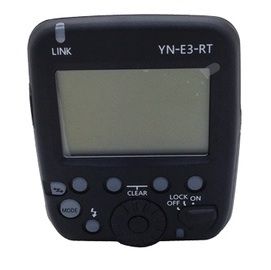 Back in October Yongnuo announced the first ever third party trigger (and a SpeedLite) that is fully compatible with Canon's 2.4ghz TTL radio triggering "RT" technology. The trigger is the YN-E3-RT and it is now in stock at the YongNuoStore for $145.99.
The YN-E3-RT trigger attaches to your Canon via the flash hotshoe, it allows to control and set all compatible devices (for the time being the Canon Speedlite 600EX-RT and the upcoming Yongnuo YN600EX-RT). The YN-E3-RT has a pretty cool feature: you can upload firmware updates via an USB port. At least potentially that could mean the Youngnuo can get new features via update.