Canon EOS R vs EOS RP Size Comparison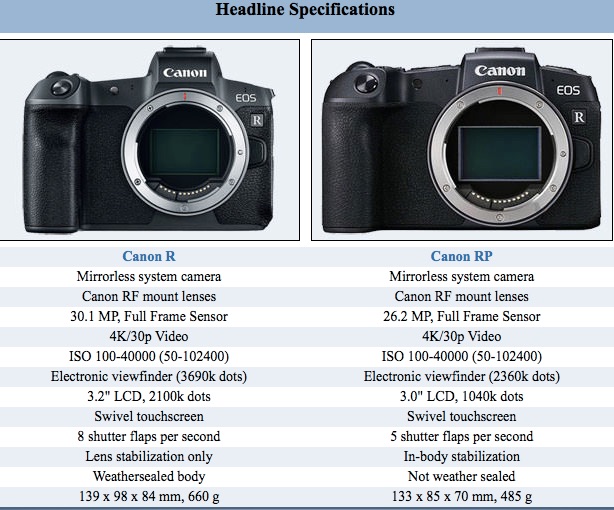 ApoTelyt published a rather accurate size comparison between the Canon EOS R and the upcoming Canon EOS RP.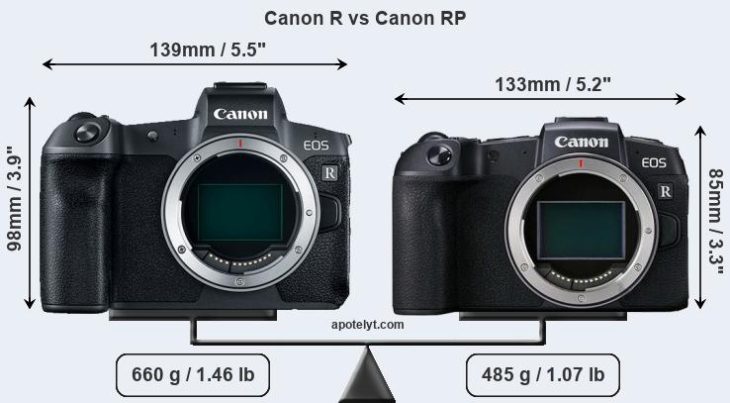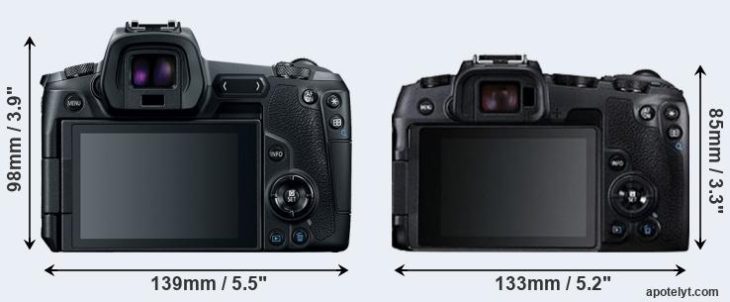 They also list the respective strengths.
Advantages of the Canon EOS R:
More detail: Offers more megapixels (30.1 vs 26.2MP) with a 7% higher linear resolution.
More detailed viewfinder: Has higher resolution electronic viewfinder (3690k vs 2360k dots).
Easier setting verification: Features an LCD display on top to control shooting parameters.
Larger screen: Has a bigger rear LCD (3.2″ vs 3.0″) for image review and settings control.
More detailed LCD: Has a higher resolution rear screen (2100k vs 1040k dots).
Faster burst: Shoots at higher frequency (8 vs 5 flaps/sec) to capture the decisive moment.
Better sealing: Is weather sealed to enable shooting in dusty or wet environments.
More heavily discounted: Has been on the market for longer (launched in September 2018).
Reasons to prefer the Canon EOS RP:
Better sound control: Has a headphone port that enables audio monitoring while recording.
More compact: Is smaller (133x85mm vs 139x98mm) and will fit more readily into a bag.
Less heavy: Has a lower weight (by 175g or 27 percent) and is thus easier to take along.
Sharper images: Has stabilization technology built-in to reduce the impact of hand-shake.
More affordable: Was introduced into a lower priced category (30 percent cheaper at launch).
More modern: Was introduced somewhat (5 months) more recently.
For a size comparison between the Canon EOS RP and the Sony a7 III head over to Sony Alpha Rumors.