Canon EOS RP vs Nikon Z 6 Size Comparison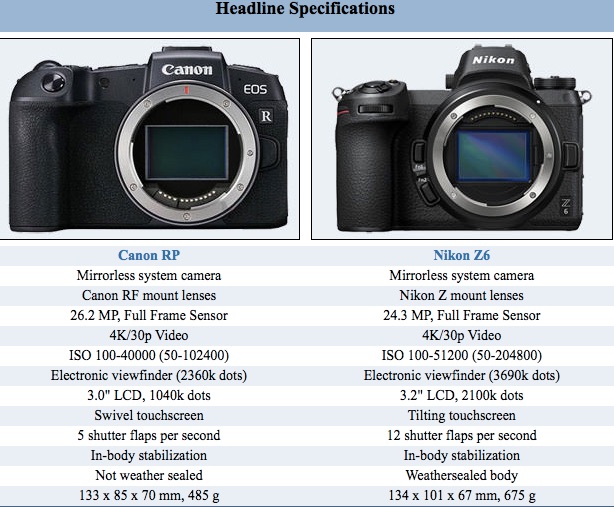 Here's another size comparison courtesy of ApoTelyt, between the upcoming Canon EOS RP and the Nikon Z 6.
The Canon EOS RP will be announced on February 14, 2019, along with five new lenses for the RF mount.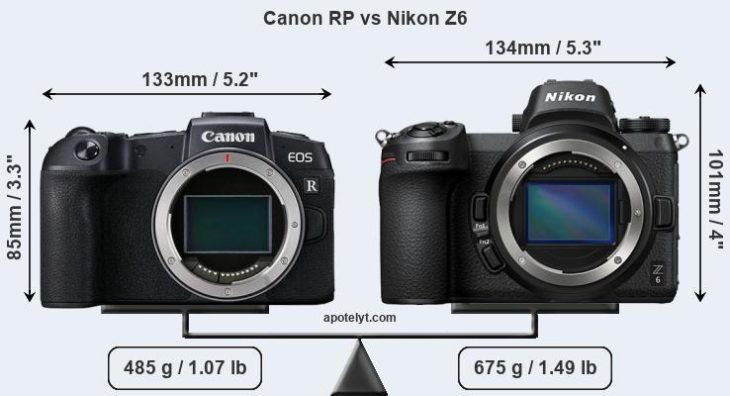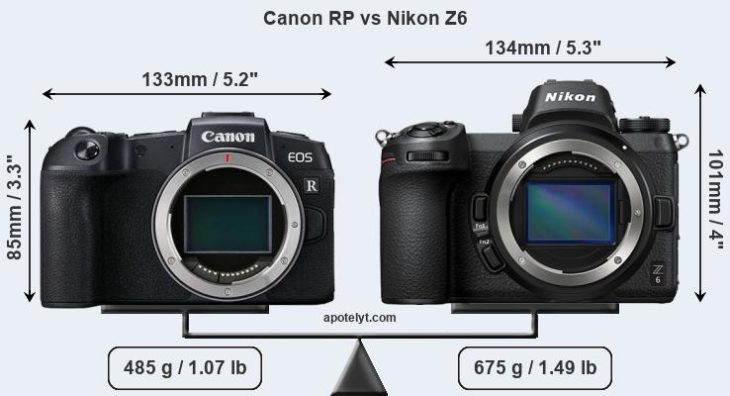 The strengths of both cameras compared:
Reasons to prefer the Canon EOS RP:
More flexible LCD: Has swivel screen for odd-angle shots in portrait or landscape orientation.
More selfie-friendly: Has an articulated screen that can be turned to be front-facing.
Less disturbing: Has an electronic shutter option for completely silent shooting.
More compact: Is smaller (133x85mm vs 134x101mm) and thus needs less room in the bag.
Less heavy: Is lighter (by 190g or 28 percent) and hence easier to carry around.
More affordable: Was introduced into a lower priced segment (20 percent cheaper at launch).
More modern: Is somewhat more recent (announced 5 months after the Z6).
Advantages of the Nikon Z6:
More detailed viewfinder: Has higher resolution electronic viewfinder (3690k vs 2360k dots).
Easier setting verification: Features a control panel on top to check shooting parameters.
Larger screen: Has a bigger rear LCD (3.2″ vs 3.0″) for image review and settings control.
More detailed LCD: Has a higher resolution rear screen (2100k vs 1040k dots).
Faster burst: Shoots at higher frequency (12 vs 5 flaps/sec) to capture the decisive moment.
Better sealing: Is splash and dust sealed for shooting in inclement weather conditions.
More heavily discounted: Has been on the market for longer (launched in August 2018).
[via
ApoTelyt
]