Canon EVF-DC2 electronic viewfinder may be announced soon, registration at certification authority suggests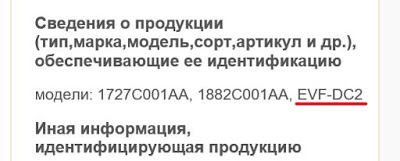 The announcement of the Canon EVF-DC2 viewfinder may be the matter of a few days. The Canon EVF-DC2 has been registered at Russian certification authority Novocert, according to Nokishita Camera.
EVF-DC2

Electronic finder

SKU: 1727C001AA, 1882C001AA

Date: September 6, 2016
As you can see there are two SKUs listed, which may point to two different color options. At the same certification authority, two mirrorless cameras have been registered, one of them coming with two color options. Is the Canon EVF-DC2 meant to be used on this two upcoming mirrorless cameras?
Since one of the upcoming mirrorless cameras is rumored to have a built-in electronic viewfinder, you may wonder for what this new viewfinder is for. If the rumor of a new EOS M with built-in viewfinder is true, then the Canon EVF-DC2 might be the new viewfinder to be used on the EOS M3 and some Powershot G models. But it might also be that the rumored EOS M camera with built-in EVF is not real. Some pictures of an alleged new EOS M camera with built-in EVF are making the rounds.
Stay tuned.