Canon Reveals More Specs Of Upcoming EOS R5 (+ first impression video)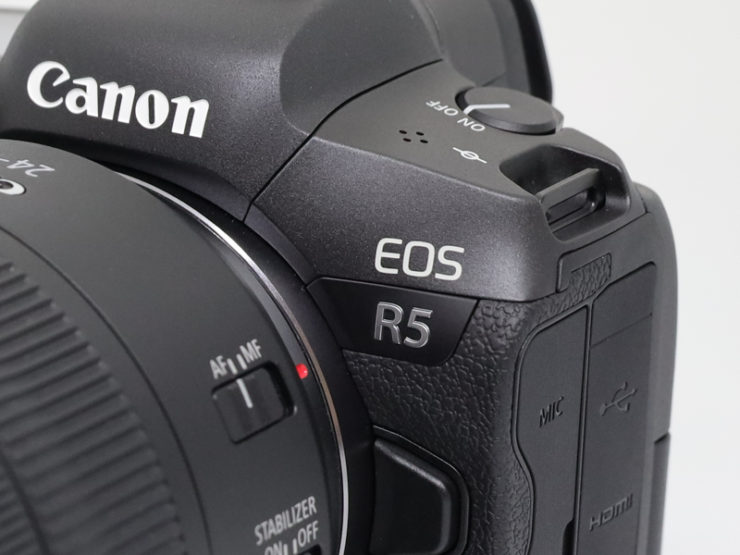 EDIT: It appears a lot of (lucky) people managed to get their hands on the Canon EOS R5. We added three more hands-on videos below.
---
During today's live-streamed press conference, Canon unveiled more specifications about the highly anticipated yet unreleased Canon EOS R5.
It seems 45MP resolution are indirectly confirmed through the revealed specifications. Canon says the R5 will shoot DCI 8192 x 4320. That means the sensor has a width of 8192 pixels. Given the 3:2 ratio the height is 5461 pixels. All sums up to a 44.7MP sensor.
This is the second teaser after the development announcement and a subsequent reveal of more specifications. All R5 coverage is listed here.
Canon press release:
The Excitement Builds: Canon Announces Additional In-Demand Specifications of The EOS R5 Full-Frame Mirrorless Camera
MELVILLE, NY, April 20, 2020 – Canon U.S.A. Inc., a leader in digital imaging solutions, today is sharing additional specifications of the highly anticipated Canon EOS R5 full-frame mirrorless camera currently in development. The newly released information divulges further details on the 8K video recording capability, IBIS and more.
Newly Announced Details of The Canon EOS R5 Full-Frame Mirrorless Camera include:
8K RAW internal video recording up to 29.97 fps
8K internal video recording up to 29.97 fps in 4:2:2 10-bit Canon Log (H.265)/4:2:2 10-bit HDR PQ (H.265).
4K internal video recording up to 119.88 fps in 4:2:2 10-bit Canon Log (H.265)/4:2:2 10-bit HDR PQ (H.265). 4K external recording is also available up to 59.94 fps.
No crop 8K and 4K video capture using the full-width of the sensor.*
Dual Pixel CMOS AF available in all 8K and 4K recording modes.
Canon Log available in 8K and 4K internal recording modes.
A Canon first, the EOS R5 will feature 5-axis In-Body Image Stabilization, which works in conjunction with Optical IS equipped with many of the RF and EF lenses.
Dual-card slots: 1x CFexpress and 1x SD UHS-II.
Some lucky people already got the R5 in their hands. Dan Watson of Learning Cameras is one of them:
DPReview also got one:
---
Newly added videos by The Art of Photography, Gordon Laing, and SunStudiosAustralia, respectively: