Samyang AF 85mm f/1.4 RF For Canon EOS R Announced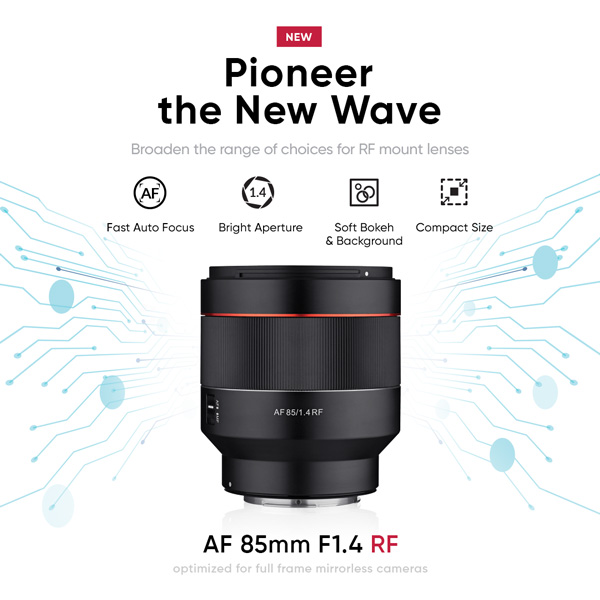 Samyang announced the Samyang AF 85mm f/1.4 RF lens for the Canon RF mount.
The can be preordered for $699 at Adorama.
Samyang AF 85mm f/1.4 RF press release:
Samyang Introduces AF 85mm f/1.4 RF, Expanding their RF Series Lineup
May 29th 2020, Seoul, South Korea – Global optics brand Samyang Optics introduces the AF 85mm F1.4 RF, an autofocus portrait lens for RF mount cameras. This new lens delivers beautiful bokeh, outstanding image quality and reliable autofocusing. Along with the recently launched AF 14mm F2.8 RF, the new Samyang AF 85mm F1.4 RF opens a new door of options to Canon EOS R camera users.
Pioneering the Trend
Samyang has been one of the early birds in introducing compact and lightweight full frame mirrorless lenses for RF mount. A series of manual focus lenses was introduced, starting with manual focus 14mm and 85mm. Then, the world's first autofocus 14mm lens for RF mount, AF 14mm F2.8 RF was presented in October 2019 and now, the new AF 85mm F1.4 RF is announced to meet the rising needs of photographers.

Main FeaturesOutstanding Image Quality
Samyang's RF series is known for its outstanding image quality, since the AF 14mm F2.8 RF was awarded the prestigious TIPA award in 2020 as 'best mirrorless prime wide-angle lens.' The new AF 85mm RF also makes no compromise in image quality: A total of 11 elements in 8 groups, with 4 high-refractive (HR) optics and an extra low-dispersion (ED) lens, have been designed to create impressive image quality from corner to corner.
Smooth and Dreamy Bokeh
Exceptional bokeh is presented with the knowhow of Samyang's optical design. The smooth bokeh adds depth and a three dimensional feeling to your portraits. 9 aperture blades provide natural, circular bokeh with a fantastic out-of-focus effect that is pleasing to the eye.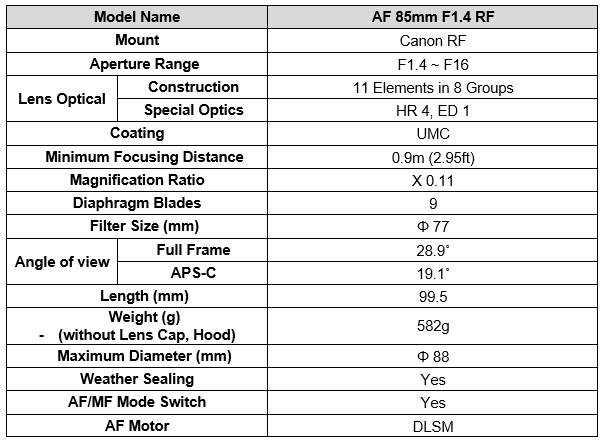 Bright F1.4 for Treasured Portraits
Shallow depth of focus smoothly blurs the background and highlights the story of the subject. The 85mm focal length, combined with the wide maximum aperture of f/1.4, enables photographers to achieve a dramatically shallow depth-of-field.
Accurate, Silent Autofocusing
The DLSM (Dual Linear Sonic Motor) works with ultrasonic vibrations, providing a silent autofocus performance. The accurate high frequency signals, controlled with Samyang's own protocols, precisely operate the DLSM. Specialists in optics, mechanical engineering and electronics, have researched cooperatively to produce such effective results for a short telephoto lens. This allows you to capture unforgettable moments efficiently and silently.
Enhanced Usability
Pioneering new territory, this lens is packed with features: Weather sealing protects the lens from dust, light rain and snow and provides the ability to capture stunning images in less than perfect conditions. Also, the AF/MF switch enables you to be in control and capture the finest details. You can enjoy the freedom of photographic expression, with all the latest functions.
More detailed information about the AF 85mm F1.4 RF can be found on the Samyang Optics official site social media channels below.
* Samyang Website: http://www.samyanglensglobal.com
* Samyang Facebook: http://www.facebook.com/samyanglensglobal
* Samyang Instagram: http://www.instagram.com/samyanglensglobal
* Samyang YouTube: https://www.youtube.com/samyanglens