Someone Already Announced A Cooling Unit For The Canon EOS R5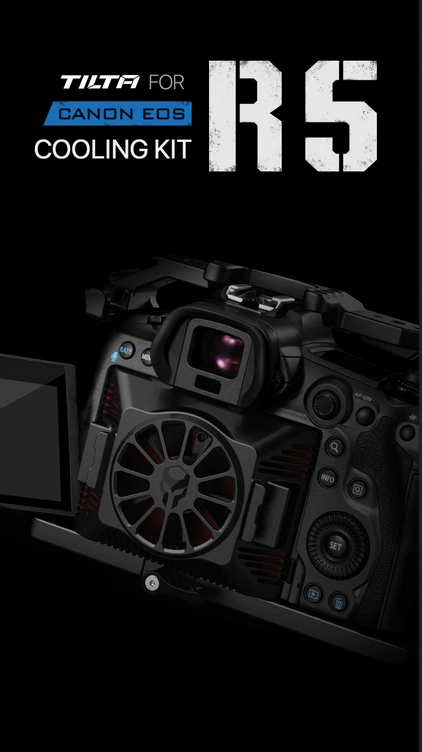 You have probably heard about the Canon EOS R5 and R6 overheating hysteria. Not only a Canon patent dealing with a cooling adapter was spotted but there is also already a company planing to build a cooling unit for the EOS R5.
Tilta will soon sell a cooling unit with fan for the EOS R5. In the company's own words:
The next camera system to be supported by our Tiltaing collection of camera accessories is the new Canon R5. Featuring a new mirrorless CMOS image sensor and 8K RAW / 4K 120P capabilities, Canon has made an attractive tool for video content creators. Camera cages, handles, and other accessories will be made available for this new camera, along with a brand new cooling module.

Created to extend recording times and help mitigate overheating, this easily installed module combines a fan, heat sink and temperature sensor. It will activate as needed, and can be removed with ease. Learn more about this new feature and look for more information about more Canon R5 components and their availability soon.
EOS R5 review stuff is listed here, for the EOS R6 see here.
Canon EOS R5 body and kits preorder links:

America: B&H Photo, Adorama, Amazon USA, Amazon Canada, Canon Canada, Canon USA
Europe & UK: Amazon DE, Amazon UK, Amazon IT, Wex Photo Video, Canon DE, Canon UK

Canon EOS R6 body and kits preorder links:

America: B&H Photo, Adorama, Amazon USA, Amazon Canada, Canon Canada, Canon USA
Europe & UK: Amazon DE, Amazon UK, Amazon IT, Wex Photo Video, Canon DE, Canon UK