The Canon EOS R3 Price For Europe Might Just Have Leaked, It's €7299

A German online retailer might just have leaked the EU price for the upcoming Canon EOS R3. Thanks Yah Ben for the tip.
The price of €7,299 appeared on the website of a German online retailer. It might well be the real price and not a placeholder as happened sometimes in the past. A price of €7,299 might mean that the US price is just below $8,000, but it seems too much to me. Is this price realistic, what do you think?
The presentation scheduled for September 14, 2021, appeared as banner on the Internet (image above). While it is not stated that it is about the Canon EOS R3, we can be rather sure it will, given all the rumors so far.
The resolution of the upcoming Canon EOS R3 is no longer a mystery. It's 24MP, and it got more than one confirmation. Oh, and have a look how impressing the 30fps of the R3 are. We expect the announcement in Fall 2021, likely in September. Here is what we know about the EOS R3 so far:
24MP backside illuminated image sensor
Multi-Controller & Smart Controller
Vari-Angle Touch Screen
NEW accessory shoe
Wifi 5GHz
High speed 30fps electronic shutter with AF/AE tracking + RAW shooting at this speed
AF down to -7.0 EV
8 Stops Coordinated Control IS with Optical IS and In-Body IS
4K Canon Log3​
Oversampling 4K
Internal RAW video
Inclusion of cars and motorbikes in AF tracking technology
RAW internal movie recording
Speedlite shooting with electronic shutter
The same weather sealing as the EOS-1D series
LP-E19 Battery
Dual card slot SD & CFExpress
All our EOS R3 coverage is listed here, product images are here and here. There has been some discussion about who makes the imaging sensor of the EOS R3. You can get notified when the Canon EOS R3 will be available for preorder.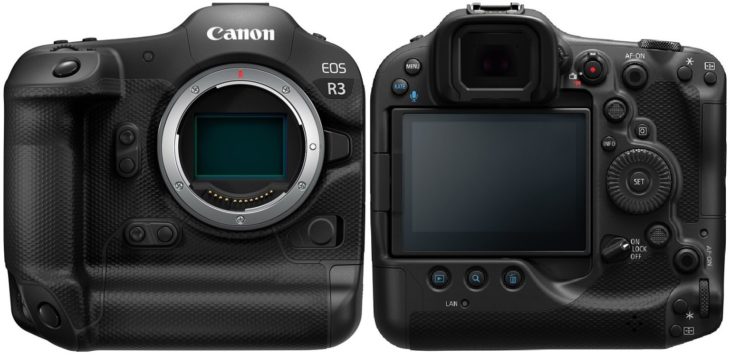 The German product description from the German retailer can be found after the break.
Outpace. Outperform.

Nimm Geschwindigkeit auf eine Weise auf, die du nie für möglich gehalten hättest. Die EOS R3 ist die neue, schnelle Hochleistungssystemkamera, die eine neue Ära für die professionelle Sport-Fotografie und das professionelle Filmemachen einläutet.

Leistungsstark, schnell und spiegellos: die neue Profi-Kamera.

Diese Kamera wurde entwickelt, um enorm schnelle Bewegungen auf eine Art einzufangen, die du nie für möglich gehalten hättest. Spezialisiert auf die Erfassung von Motiven, die sich mit hoher Geschwindigkeit bewegen. Für die Anforderungen der professionellen Sport-Fotografie entwickelt: mit unglaublich hoher Reaktionsgeschwindigkeit, Empfindlichkeit, Zuverlässigkeit und Robustheit.

Explosive Geschwindigkeit

Die EOS R3 kommt. Die erste EOS mit einem völlig neuen, von Canon entwickelten und gefertigten, Stacked BSI CMOS-Sensor, kombiniert mit der Leistung eines DIGIC X Bildprozessors. Eine neue Dimension der Highspeed-Foto- und Videografie, die man sich kaum vorstellen kann. Reihenaufnahmen mit bis zu 30 B/s bei voller AF/AE-Nachführung mit minimierter Verzeichnung bei Verwendung des elektronischen Verschlusses.

Geschwindigkeit beherrschen

Die Fokussierung der EOS R3 wurde auf ein neues Niveau gehoben und ist in der Lage, extrem schnelle Bewegungen präzise zu verfolgen und zu fokussieren. Der Dual Pixel CMOS AF II der nächsten Generation kann Augen und Köpfe von Motiven erkennen und mit bis zu 30 Bildern pro Sekunde zuverlässig verfolgen. Mit Stolz präsentiert Canon eine neue AF-Nachführung bei der EOS R3.

Ultra reaktionsschnell

Wir stellen vor: das bahnbrechende Eye Control AF-System von Canon für eine neue Generation von Fotografen. Dieses AF-Steuerungssystem wurde für das 21. Jahrhundert von Grund auf neu entwickelt. Stell dir einmal vor, du könntest den AF-Punkt einfach mit dem Blick deines Auges im Sucher der EOS R3 festlegen oder verlagern. Das Eye Control AF-System von Canon – die wirklich einzigartige AF-Steuerung. Das Gehäuse der EOS R3 wurde von der EOS-1D Serie inspiriert und ermöglicht selbst in den anspruchsvollsten professionellen Situationen eine ultra-intuitive Steuerung.

Für Profis entwickelt

Die EOS R3 bietet denselben Staub- und Spritzwasserschutz wie eine Kamera der EOS-1D Serie und hält damit auch den widrigen Wetterbedingungen stand, denen professionelle Fotografen regelmäßig ausgesetzt sind. Noch besser: Sie hat den integrierten Griff, den die Nutzer der EOS-1D Serie lieben und dem sie vertrauen – jedoch bei einer reduzierten Gesamtgröße der Kamera und einem deutlich geringeren Gewicht im Vergleich zur EOS-1D Serie.

Ein System der nächsten Generation

Durch die Verwendung des RF Bajonetts öffnet die EOS R3 die Tür zu bisher unerreichten Möglichkeiten: eine nie da gewesene optische Exzellenz und unvergleichliche AF-Leistung.MERKMALE:
– Neuer, von Canon entwickelter Stacked BSI CMOS-Sensor
– Bis zu 30 B/s bei AF/AE-Nachführung
– Eye Control Funktion
– Erkennung von Augen, Kopf und Körper am Motiv
– Dual Pixel CMOS AF
– Staub- und Spritzwasserschutz wie bei der Canon EOS-1 Serie
[via Photografix Magazine]