Canon 2019 Financials – EOS R With New Sensor, Image Processor, Advanced Features Under Development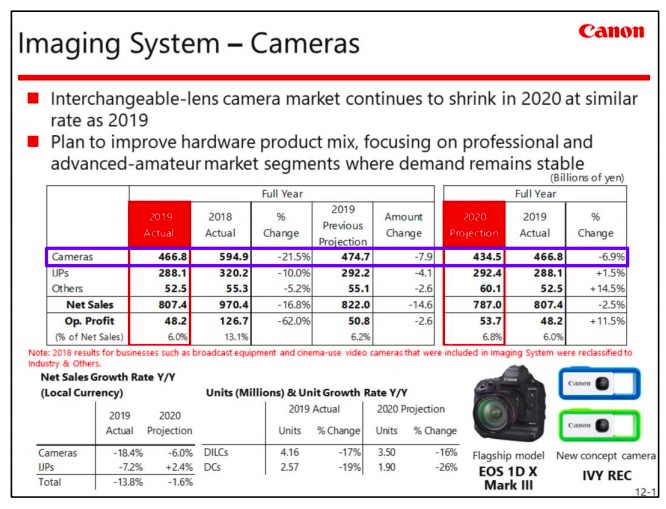 Canon published their financial results for 2019. And there are some interesting statements about the EOS R roadmap to find in the documents.
Canon takes the EOS R full frame mirrorless system very seriously.
In Imaging System, sales and profit also declined. While we enhanced our lineup in order to recover the ground we lost by entering the mirrorless camera market late, our camera business was negatively impacted by market contraction and the intensely competitive environment.
Yep, you were a bit late Canon. But we are willing to forget and forgive. Especially if you make us lusting for gear with statements like this (emphasis mine):
Although we have launched two full-frame mirrorless cameras as well as ten dedicated lenses, our lineup is still insufficient. In order to recover from our late entry into the mirrorless camera market, we have plans to launch a model that incorporates a newly developed image sensor and image-processing engine that offer even more advanced features. We will work to raise our presence in the mirrorless camera category, leveraging
large trade exhibitions around the world. Even amid increasing competition, we will expand sales of higher-end models driven by new products and aim for top market share even in the mirrorless camera market.
Ok, so if got it right an EOS R model with a newly developed sensor, a newly developed image processor and with advanced features is under development. We say "under development" because if Canon mentions it in their financial strategy papers, it can't be that far away. And guess what? There is more. What about new lenses?
At the same time, we will expand our lineup of dedicated lenses launching several innovative ones that take advantage of the new mount that allows greater flexibility when designing lenses. We will accelerate sales by responding to user need to capture various images, expanding options by combining camera bodies and lenses.
Needless to say how good this sounds in the ears of a Canon aficionado. Maybe this advanced EOS R camera is one of the upcoming models?
All Canon 2019 financial result documents are listed here. Previous financial results are listed here.