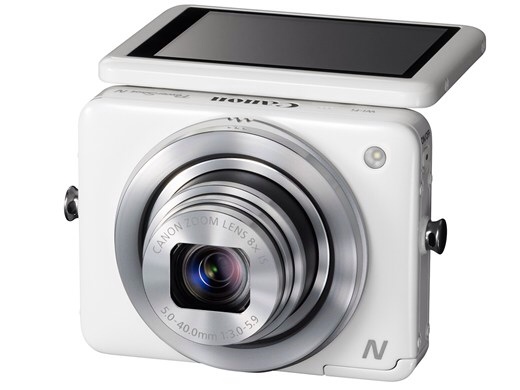 12MP, tilting touchscreen, built-in Wi-Fi capabilities, an 8X-optical-zoom lens, 3.09 x 2.37 x 1.15 inches… Canon's latest fun toy wasn't expected. Let's see some of the first hands-ons that showed up on the net. The PowerShot N, which will cost $299 and be available soon, can be pre-ordered at the following links (along with all the other Canon gear that was announced at CES 2013, click on shopname): B&H | Adorama.
Canon PowerShot N availability check for your country: Amazon, B&H, Adorama, Canon USA, J&R, Digitalrev, Borrow Lenses, eBay (you probably have to wait some time)
Techradar: They found good: Easy to use, One-touch Wi-Fi, Small size, Good sensor, Responsive touch-control. Not so good: Slightly awkward to hold, Little manual control, Restricted LCD movement. More:
The PowerShot N is all about creating images quickly and easily, so naturally all the exposure modes are automatic. Program mode provided the most control, with aspects such as exposure compensation and white balance being adjustable. Alternatively, there are some creative shooting options with filter effect such as Fish-eye Effect, Miniature Effect, Soft Focus, Toy Camera Effect and Monochrome.
This little box of a 12-megapixel camera also doesn't have a traditional shutter button or zoom control. Instead, you trigger the shutter by pressing a ring around the lens, and you operate the zoom lens by rocking a second lens-ring control back and forth with your finger. You can also focus and take a photo by tapping the camera's 2.8-inch capacitive touchscreen, which is definitely responsive
It's an interesting idea, and perhaps something that will genuinely appeal to the left-handers out there, but we found the camera to be quite uncomfortable to use, and we didn't really warm to the strange design even after a lengthy play.
Canon USA PowerShot N page
Finally, a video by Whatdigitalcamera: