Canon Patent For RF 28-70mm F/2-2.8 For EOS R (with no image stabilisation, sign for IBIS?)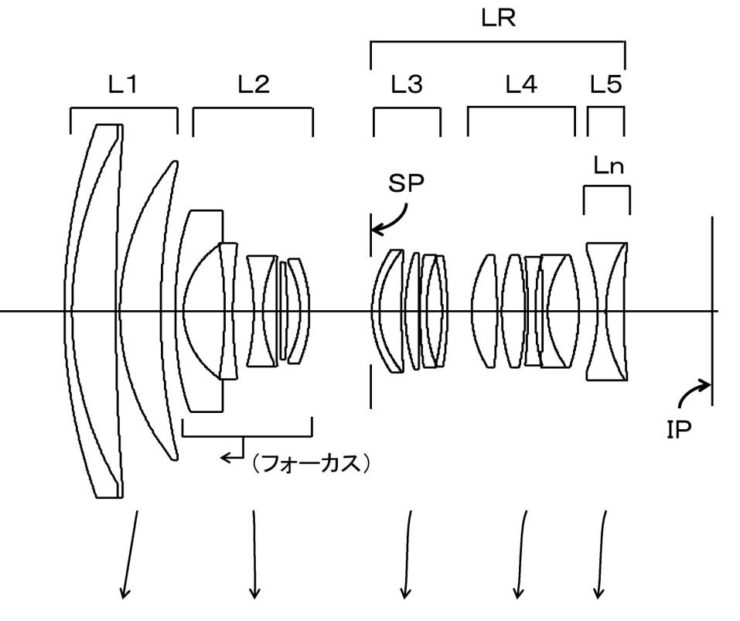 Hi Lows Note spotted a Canon patent application (2018-197774) for an RF 28-70mm F/2-2.8 lens for the EOS R system.
Focal length: 28.68 – 67.90mm
F number: 2.26 – 2.91
Half angle of view: 37.03 – 17.67
Image height: 21.64 – 21.64mm
Lens length: 149.69 – 174.43mm
Back focus: 20.57 – 35.45mm
The interesting fact: the lens literature does not refer to an image stabilisation group inside the lens. Some people is saying this is a sign for IBIS (In Body Image Stabilisation) coming to future EOS R models (rumors already surfaced). We are not sure how to interpret this.
Canon always stated the superiority of image stabilisation in the lens. Never the less, Canon execs didn't exclude the possibility of a future mirrorless camera with IBIS, and there are a few patents clearly discussing IBIS (patent 1 | 2 | 3).
Do you think this patent application is a clear sign of IBIS to be featured on future EOS R cameras?
Canon in an unusual move for the company already disclosed the the EOS R lens roadmap for the next years (also see this interview). The lens described in the patent application doesn't seem to be on Canon's immediate agenda. Keep in mind that patents are a way for companies to secure they research and development and hence their intellectual propriety. A patent application rarely means a product is coming to the market soon.
More Canon patent applications are listed here. Some particularly interesting patent applications we think might get into production in the next few years are these: