Nauticam announced an underwater housing for the tremendous Canon EOS 6D (price & specs). The housing is rated for 330 feet depth, and is expected to be available by May 15th,  price tag $3,330. For more information, visit the Nauticam USA webpage.
Canon EOS 6D price check: Amazon, B&H, Adorama, Canon USA, J&R, Digitalrev, Borrow Lenses, eBay
Key NA-6D Features:
| Feature | Advantage |
| --- | --- |
| Rugged housing body milled from solid aluminum | 100m depth rating and built to last |
| Patented port locking lever | Easy and safe port mounting, solidly locks port in place |
| Knobby command dials | Can be operated even with thick gloves on |
| Patented housing locking latches | Secure but easy to use |
| Rubberized handle grips | Comfortable and placed for optimum access to controls |
| Lens release button | Easy changeout of lenses without removing camera from housing |
| Drop in camera tray | No need to preset controls, just drop in and it is ready to go |
| Fiber optic ports | Support for upcoming fiber optic trigger |
| 2 Bulkheads, with Nikonos connectors | Nikonos connectors standard, HDMI Monitor optional |
| Viewfinder, 0.66x | Enhanced 180º and 45º viewfinders optional |
| Laser cut stainless steel handle brackets | For extra stability when using heavy lighting |
| Light mounting balls | 2 handle mounted balls standard, mounting balls for housing optional |
| Tripod mounting points | Important for macro video shooters |
| Control labeling | Easy to find and understand control functions |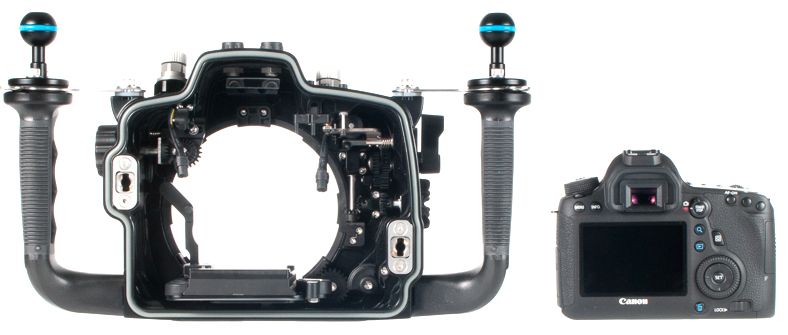 NA-6D Controls (advantages/usage underwater):
Sensitive two stage shutter release (easy to gauge half press; gives fine control over the shutter release)
AF-ON Lever (strategically placed for easy thumb focus or thumb focus lock)
Front Command Dial directly under shutter release (change aperture effortlessly)
Rear Command Dial at left side next to thumb (change shutter speed without removing hand from grips)
Multi Controller Pad controls the 8 way selector (instantly change focus points, even diagonally)
Manual Zoom/Focus Knob (zoom/focus the lens without a reach)
ISO Paddle at right thumb (very quick ISO changes; ISO has become a key control, especially for video)
Info Button brought out to left thumb (calls up the important info screen, in playback mode toggles histogram)
Playback button paddle at left thumb (makes reviewing images easy)
Zoom button paddle at left thumb (zoom, check critical focus, pan without removing hand from grip)
Mode dial (switch from P to Av to M modes easily)
AF Mode, Drive Mode and Metering Mode push buttons (easy to change with Canon's push-turn style)
Q, *, and Focus Points button accessible with right thumb (change focus points, lock exposure and much more)
Trash button requires reach (no accidental deletions)
Menu button near left thumb (access to all camera options)
Movie/Still mode lever (effortless switch from still to movie shooting)
Start/stop video on right thumb paddle (start video without inducing camera shake)
Exposure compensation on right thumb lever (change exposure compensation quickly)
Metering mode (easily change to spot for manual blue water metering)
On/off  switch automatically aligns(no need to preset camera)
Canon 6D Key Features (and notes for underwater shooters):
20.2 Megapixel Full Frame CMOS Sensor (36mm x 24mm - full frame)
ISO 50-102,400 (excellent high ISO, low light performance)
Canon EF-Mount (support for Canon lenses like the 8-15mm)
3″ 1.0mdot TFT-LCD (wide viewing angle, easy to see in bright sun)
6 white balance presets (best custom white balance in SLR)
11 focus points, -3EV focus sensitivity (most sensitive focus points of any current FF SLR)
UHS-1 SD Card Compatible (fastest SD card format)
Video with 1080p at 30fps, ALL-I or IPB compression (excellent video quality with headroom for post processing)
The press release:
Housing for Canon 6D.
Innovation Underwater.
Nauticam has announces the release of the NA-6D. Nauticam is the international leader in innovative underwater housing technology, and the new housing for the Canon 6D builds on the success of previous housings. The Canon 6D camera offers a full frame sensor at a lower price than the Canon 5D Mark III, but adds impressive new features like wireless control and GPS. The 6D can take advantage of Canon's superb lineup of lenses, including favorites for underwater like the Canon 8-15mm fisheye, the 16-35mm rectilinear zoom and the 100mm macro. Video shooters already know about Canon video and white balance, and the NA-6D delivers all of this in an unbeatable underwater housing.
[via divephotoguide]}