Future Canon Cameras Might Have An Even Better Sensor Dust Removal Feature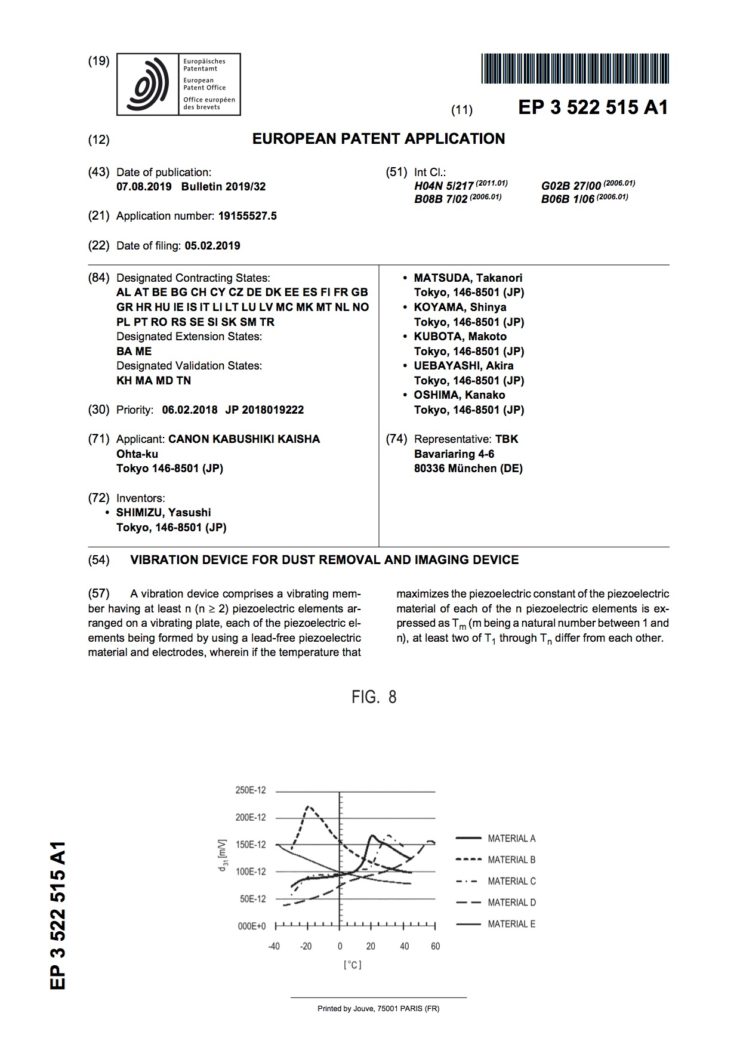 Canon patent application EP3522515A1 discusses method and technology for an image sensor dust removal system. Canon already has one of the best dust removal systems in the industry, so it can only get better.
Excerpts from the patent literature:
An imaging device such as a digital camera for picking up and recording an image by converting an image signal into an electric signal receives an imaging light flux by means of the image pick up device, which may typically be a CCD (charge coupled device) or a CMOS (complementary metal oxide semiconductor) it comprises. Then, the photoelectric conversion signal output from the image pickup device is converted into image data, which image data is then recorded in a recording medium such as a memory card. In such an imaging device, a cover glass, an optical low pass filter, an infrared absorption filter and other parts are arranged in front (on the subject side) of the image pickup device to form an image pickup unit there.

In an imaging device of the above-described type, when foreign objects such as dusts adhere to any of the surfaces of the cover glass and the filters of the image pickup unit, those foreign objects block the incident light flux and are picked up as black spots in the recorded image. Particularly, in the case of a digital single-lens reflex camera, the dusts that are produced when the shutter, the quick return mirror and/or some other part arranged near the image pickup unit is mechanically driven to operate can adhere, if partly, to any of the surfaces of the cover glass and the filters. Additionally, when the lens is being replaced, foreign objects such as dusts can get into the inside of the camera main body by way of the opening of the lens mount and adhere to any of the surfaces of the cover glass and the filters. However, when each of the cover glass and the filters is equipped with a piezoelectric element and the piezoelectric element is made to operate as a vibrating plate that give rise to elastic vibrations (to be referred to as flexural vibrations hereinafter) in the thickness direction, it can be made to operate as a dust removal device for removing the dusts adhering to the surfaces thereof.

[…] in an aspect of the present invention, there is provided a vibration device comprising a vibrating member having at least n (n≥2) piezoelectric elements arranged on a vibrating plate, each of the piezoelectric elements being formed by using a lead-free piezoelectric material and electrodes, wherein, if the temperature that maximizes the piezoelectric constant of the piezoelectric material of each of the n piezoelectric elements is expressed as Tm (m being a natural number from 1 to n), at least two of T1 through Tn differ from each other.
More Canon patent applications are listed here. Some particularly interesting patent applications we think might get into production are these: