Canon Patent: 200mm f/2, 300mm f/2.8 And 500mm f/4 (RF mount?)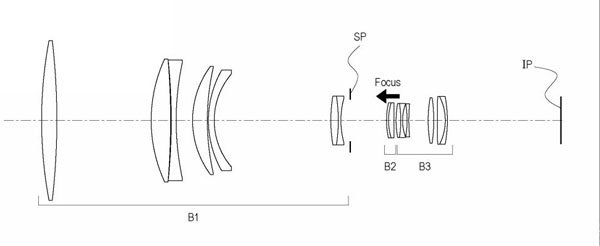 Canon patent application for some telephoto zooms, for the EOS R system I guess.
Canon patent application 2020196094 (Japan) discusses optical formulas for three telephoto zoom lenses:
200mm f/2
300mm f/2.8
500mm f/4
As a shooting optical system having a long focal length, a so-called telephoto type shooting optical system is known. The telephoto type photographic optical system is used, for example, in a single focus super-telephoto lens.

In the photographing optical system described in Patent Document 1, the second lens group having a negative refractive power is moved during focusing. Here, the second lens group is arranged at a position relatively close to the first lens group, and it cannot be said that the focus group can be sufficiently reduced in size and weight.

An object of the present invention is to provide an optical system that is lightweight and has chromatic aberration and other aberrations satisfactorily corrected, and an image pickup apparatus having the same.
More Canon patent applications are listed here. Some particularly interesting patent applications we think might get into production are these:
[via Digicame Info]