Canon Patent: 83mm f/1.4 For The Canon RF Mount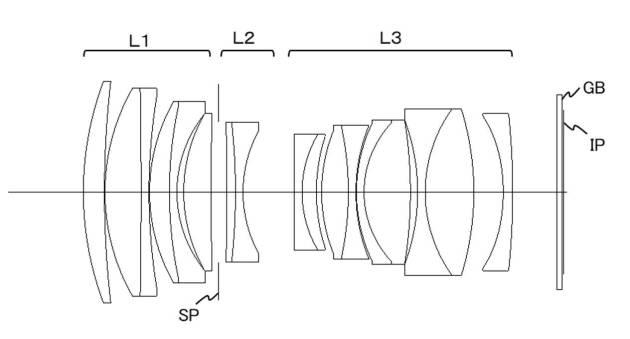 And here is another Canon patent for an RF mount lens.
Spotted by Hi Lows Note, Canon patent application 2021-81531A (Japan) discusses optical formulas for a 83mm f/1.4 lens for full frame mirrorless cameras, i.e. for the EOS R camera system.
Embodiment 1
Focal length (mm): 82.87
F number: 1.45
Half angle of view (degree): 14.63
Image height (mm): 21.64
Lens length (mm): 126.50
Back focus (mm): 13.00
Embodiment 2
Focal length (mm): 82.86
F number: 1.45
Half angle of view (degree): 14.63
Image height (mm): 21.64
Lens length (mm): 128.50
Back focus (mm): 17.13
Embodiment 3
Focal length (mm): 82.64
F number: 1.45
Half angle of view (degree): 14.67
Image height (mm): 21.64
Lens length (mm): 113.70
Back focus (mm): 18.16
More Canon patents are listed here. Some particularly interesting patent applications we think might get into production are these: