You are browsing the archive for 500mm Archives - CanonWatch.
A limited stock of this hard to find lens available at B&H (click here).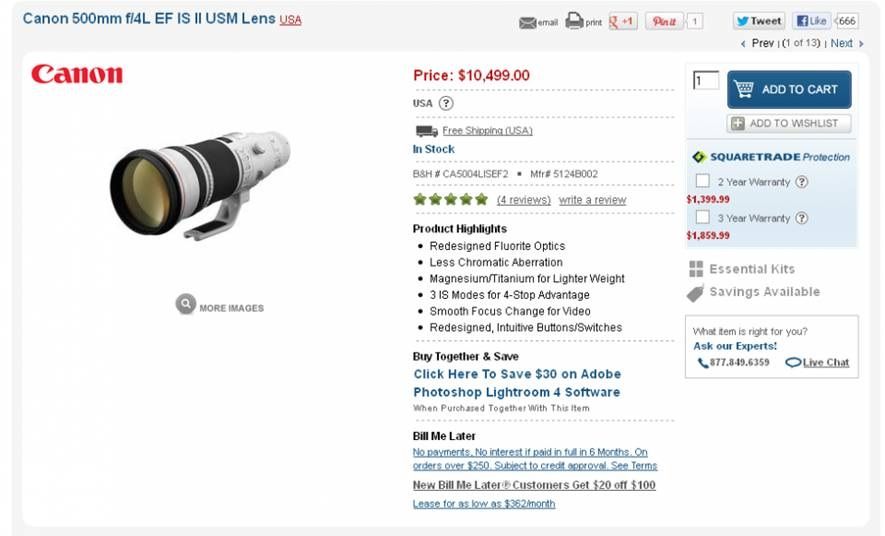 Ever wondered how a Canon L lens is made? Well, there is a three part video series (by RazorFantasy) that covers each and any aspect of the manufacturing of the EF 500mm F4L IS USM lens. Above is part 1, below part 2 and 3. Enjoy!
Photographer Richard Bernabe got an EF 500mm f/4L IS II USM lens and shares his thoughts on his blog. An EOS 7D was used to test the lens (samples provided).
 After comparing the new version to the previous one, I would have to say that it's noticeably faster to grab focus, especially when working with moving subjects as I was. The IS is much more powerful as well. Before even looking at Canon's lens specs, I noticed a change to the IS performance. Canon claims there is a 4-stop advantage from IS-ON to IS-OFF, which is double the advantage over the older version. There are three IS modes: 1 is for shooting stationary subjects, 2 is for panning in one direction, and 3 is for tracking moving subjects.
The EF 500mm f/4L IS II USM has a price tag of $10.500. Amazon has one (1) in stock (click here, also for product specifications). You can pre-order the lens at Adorama (click here) and B&H (click here)
EF 500mm f/4L IS II USM:


Redesigned Fluorite Optics
Less Chromatic Aberration
Magnesium/Titanium for Lighter Weight
3 IS Modes for 4-Stop Advantage
Smooth Focus Change for Video
Redesigned, Intuitive Buttons/Switches
[via Richard Bernabe]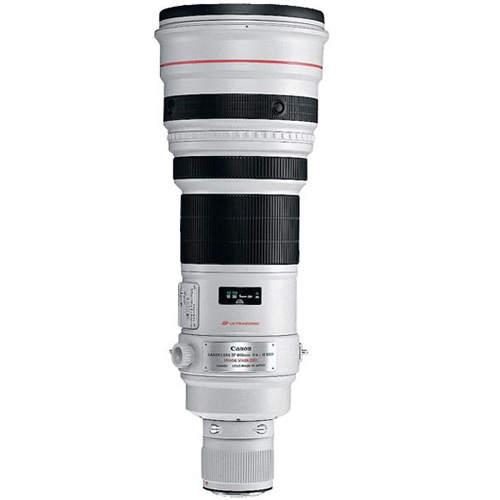 Canon has recently released two new product advisories. The first one concerns the WFT-E5A Wireless Transmitter. The firmware upgrade (ver. 1.0.7) doesn't tackle problems or malfunctions, it was released to support the just released, massive firmware update for the EOS 7D.
Next, Canon also released a product advisory for the following lenses: EF 300mm f/2.8L IS II USM, EF 400mm f/2.8L IS II USM, EF 500mm f/4L IS II USM, and EF 600mm f/4L IS II USM. The firmware update (ver. 1.1.1) will be performed by Canon Service Centers and brings the following enhancement:
Changes the control algorithm of the focus drive, and enhances the drive's responsiveness for more precise focus and adjustments. In particular, the new firmware enhances the AI servo AF capability of the lenses to track objects that move irregularly in sports events, such as soccer or rugby.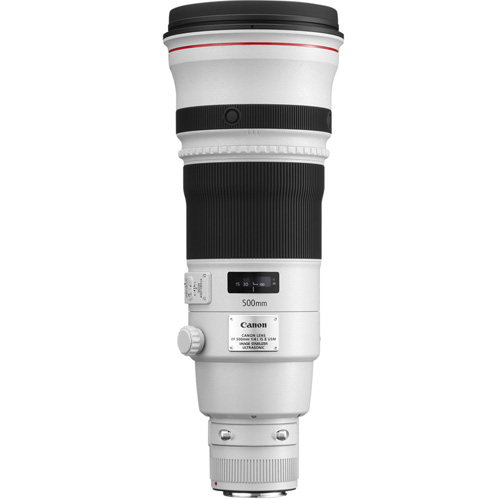 Let me first state that I really like Scott Bourne's posts. They are always concise and synthetic, yet informative and pleasant to read. The same applies to his mini-review of the EF 500mm f/4L IS Telephoto Lens. Announced more than a year ago, and delayed because of the Japan earthquake, the lens started to appear in limited quantity at some sellers. Scott Bourne is raving about this lens:
What a lens! There is a new IS mode that offers four stops of speed and three modes. New redesigned optics perform with almost no chromatic aberration. But the BIG difference is the lens is significantly lighter. The lens weighs a pound and a half less than its predecessor and it feels like a feather by comparison.
Canon says the lens has redesigned fluorite optics and less chromatic aberration, and it is made out of magnesium and titanium. There are 3 IS modes, you should get 4 stops using image stabilization. This isn't really a budget lens, having a price tag of $10,499. Pre-orders can be filed at the following shops:
Core specifications:
| | |
| --- | --- |
| Construction | 16 elements in 12 groups (Including drop-in rear filter, Fluorite: G2 and G4, UD Lens: None) |
| Angle of view | 5° |
| Focus Adjustment | Inner focusing system, with focusing cam |
| F stop range | 4-32 |
| Closest Focusing Distance | 3.7m / 12.14 ft. |
| Filter Size | 52mm Drop-In |
| Dimensions (Diameter x Length) | 5.7″ x 15.1″ / 146 x 383mm |
| Weight | Approx. 112.5 oz. / 3190g |
Worthy successor to the lauded Canon EF 500mm f/4L IS USM, the new EF 500mm f/4L IS II USM super telephoto lens features completely redesigned Fluorite optics that deliver sharper images with less chromatic aberration and has a lighter weight thanks to magnesium and titanium construction elements.
Because image stabilization technology in super telephoto lenses may inadvertently over-compensate and interfere with composing and framing distant or moving subjects, the EF 500mm f/4L IS II USM includes an advanced third Image Stabilization mode (Mode 3) that activates IS only when the shutter button is fully pressed. This allows users to pan fast-moving subjects and then activate IS only when it is precisely required.
Additionally, all three IS modes give the equivalent effect of a shutter speed four stops faster, ideally positioning the Canon EF 500mm f/4L IS II USM for professional action photography, from sports to nature. The addition of the Power Focus mode enables smooth focus change when shooting video. Buttons and switches are redesigned for intuitive, deliberate operation, and dust and water sealing keeps the EF 500mm f/4L IS II USM functioning flawlessly in even the most challenging environments.
Update: Adorama also has both lenses ready for pre-order.
Announced in February, the EF 500mm f/4L IS II USM ($10,499 click here) and the EF 600mm f/4L IS II USM ($12,999 click here) are finally ready for pre-order at B&H. See the press release, and here for more detailed specs.
In short:
EF 500mm f/4L IS II USM:


Redesigned Fluorite Optics
Less Chromatic Aberration
Magnesium/Titanium for Lighter Weight
3 IS Modes for 4-Stop Advantage
Smooth Focus Change for Video
Redesigned, Intuitive Buttons/Switches
EF 600mm f/4L IS II USM:

Fluorite Optics for Sharper Images
Less Chromatic Aberration
Magnesium/Titanium for Lighter Weight
3 IS Modes for 4-Stop Advantage
Smooth Focus Change for Video