Canon Patent: RF 28-70mm f/2.8L That Does Not Extend, Inner Focusing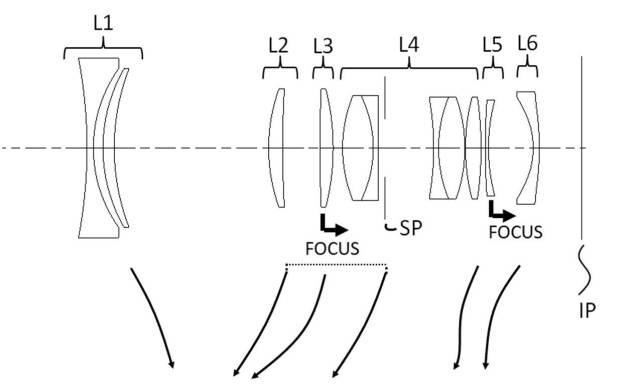 Here is a very interesting Canon patent application, once more for an RF mount lens. An RF 28-70mm f/2.8L with inner focusing and that does not extend might be in the works.
The Canon patent application spotted by asobinet.com (they did not disclose the patent number), discusses optical formulas for a RF 28-70mm f/2.8L lens. The interesting part, if I got it right from the machine translated Japanese text, is that the lens not only does all the focusing but also employs a design that is usually found on wide-angle lenses.
It sounds like a patent for a small and lightweight standard zoom. The characteristic of this optical system is that the total length is the longest at the wide-angle end and the total length becomes shorter toward the telephoto end. This is a common optical system for wide-angle lenses, but I don't see this type of lens with standard zoom lenses, especially with large-aperture zoom lenses. If it is really put into practical use, it will be a very portable lens.
Did I get it right? The lens is indeed described to be shorter at the telephoto end (emphasis mine) in both embodiment:
Wide-angle intermediate telephoto
Focal length 28.84 36.81 67.90
F number 2.91 2.91 2.91
Half angle of view (°) 32.68 29.23 17.67
Image height 18.50 20.60 21.64
Lens total length 117.09 109.31 101.58
BF 9.99 13.47 21.59
Focal length 28.84 37.17 67.90
F number 2.91 2.91 2.91
Half angle of view (°) 32.65 28.90 17.67
Image height 21.64 21.64 21.64
Lens total length 132.62 122.81 111.18
BF 21.92 26.79 39.84
Moreover, the lens uses a floating focus structure to achieve autofocus. That means it might have very fast and and highly responsive AF. The patent literature is very clear in what should be achieved:
PROBLEM TO BE SOLVED: To provide a zoom lens having a short overall lens length, being compact and lightweight, and having high optical performance.
All comments welcome.
More Canon patent applications are listed here. Some particularly interesting patent applications we think might get into production are these: