Canon Patent: Various Telephoto Zoom Lenses For The RF Mount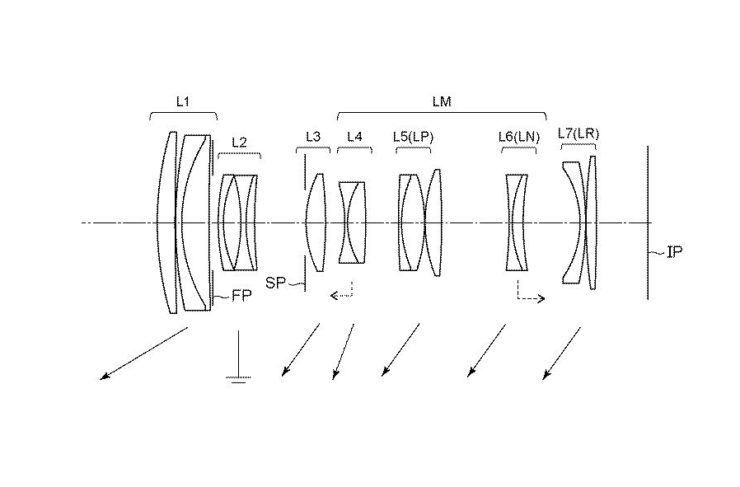 And here is another Canon patent application for telephoto zoom RF mount lenses. No doubt left that Canon is heavily investing in the EOS R full frame mirrorless system.
Canon patent application P2021-56407A (Japan) discusses optical formulas and designs for a bunch of telephoto zoom lenses for the RF mount. However, one of the optical designs listed below is for an APS-C sensor, so either for the EOS M (likely) or for Canon's crop sensor DSLR lineup. The patent application was spotted by Hi Lows Note.
Embodiment 1
Zoom ratio 2.68
Focal length 72.27 135.02 193.89 mm
F number 4.08 4.08 4.12
Half angle of view(°) 16.67 9.10 6.37
Image height 21.64 21.64 21.64 mm
Lens length 137.50 175.84 193.12 mm
BF 14.44 24.23 29.66 mm
Embodiment 2
Zoom ratio 4.82
Focal length 101.59 200.00 490.00 mm
F number 4.60 5.09 6.80
Half angle of view(°) 12.02 6.17 2.53
Image height 21.64 21.64 21.64 mm
Lens length 222.29 279.43 312.29 mm
BF 21.06 29.20 64.12 mm
Embodiment 3
Zoom ratio 2.69
Focal length 72.13 100.00 194.06 mm
F number 2.89 2.89 2.91
Half angle of view(°) 16.70 12.21 6.36
Image height 21.64 21.64 21.64 mm
Lens length 161.59 187.06 220.03 mm
BF 15.86 20.68 31.81 mm
Embodiment 4 (for APS-C sensor)
Zoom ratio 4.24
Focal length 56.90 130.00 241.30 mm
F number 4.68 5.88 6.55
Half angle of view(°) 13.50 6.00 3.24
Image height 13.66 13.66 13.66 mm
Lens length 102.01 140.24 153.08 mm
BF 13.47 21.19 39.32 mm
Embodiment 5
Zoom ratio 3.75
Focal length 103.39 196.91 387.69 mm
F number 5.77 7.10 8.24
Half angle of view(°) 11.82 6.27 3.19
Image height 21.64 21.64 21.64 mm
Lens length 165.42 201.96 235.42 mm
BF 13.85 33.27 57.50 mm
Embodiment 6
Zoom ratio 3.88
Focal length 100.04 198.04 387.80 mm
F number 5.77 7.10 8.24
Half angle of view(°) 12.20 6.23 3.19
Image height 21.64 21.64 21.64 mm
Lens length 159.40 202.97 229.40 mm
BF 10.02 28.12 62.23 mm
More Canon patents are listed here. Some particularly interesting patent applications we think might get into production are these: