Canon Patent: Automatic Adjustment Of Touchpad AF Sensitivity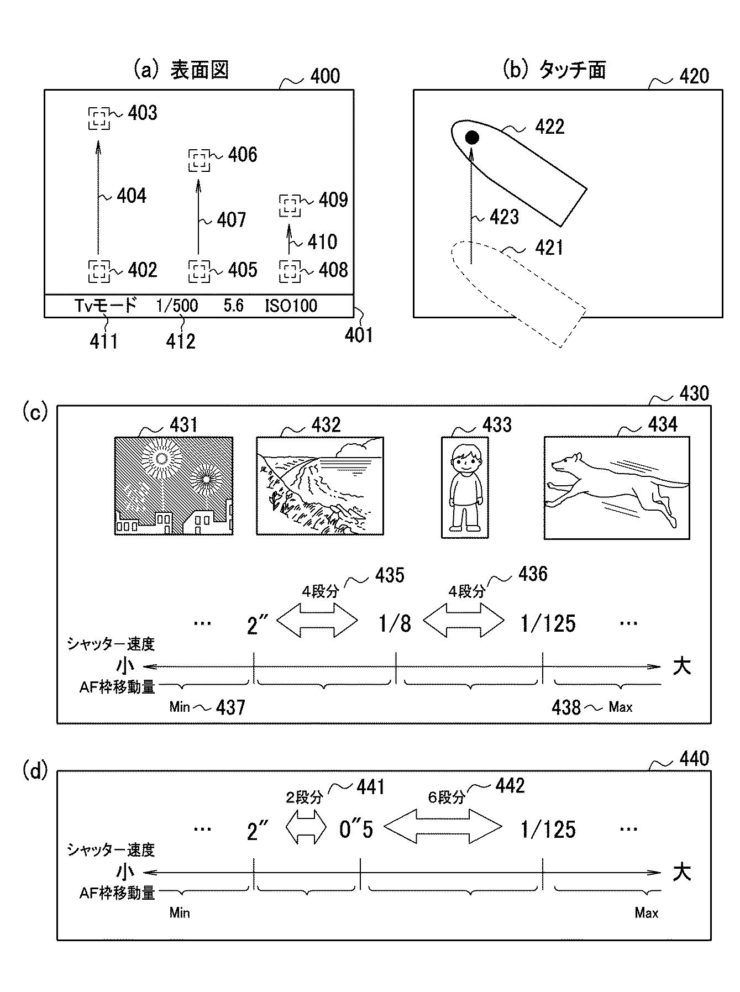 Interesting Canon patent application spotted by asobinet.com. The sensitivity of the touchpad used for autofocus tracking is automatically adjusted with regard to shutter speed and the subject.
Canon patent application 2021-128242 discusses technology and methods to automatically set the touchpad sensitivity when tracking a subject with autofocus.
If we got this patent right, the sensitivity of the touchpad is based on subject recognition technology and values computed from the shutter speed and the movement speed of the subject. In other words: if the algorithm detects a fast moving subject and a fast shutter is set, then the sensitivity of the touchpad is increased in the sense that the AF frame will move faster when the touchpad is used to track a subject. Here is the machine translated patent abstract:
Problem: To improve the operability of an AF frame.

Means for solving: A touch detection means capable of detecting touch operation on a touch panel, and a display control means for displaying an item showing an in-focus position on a display part ; A shutter speed acquiring means for acquiring a shutter speed being set and a control means for moving the item on the display part in accordance with the amount of movement of the touch position detected by the touch detecting means, and the control means is used when the touch position detected by the touch detecting means is a 1 movement amount. It has a control means controlled so that a direction when the aforementioned shutter speed is larger than the above-mentioned first value moves the aforementioned item largely rather than the case where the aforementioned shutter speed is smaller than a first value.
And, in particular:
[…] In the method [described in the patent, editor's note] when the user is chasing a fast-moving subject, if the AF frame is set small, the touch move must be performed many times in order to move the AF frame [and hence the subject tracking might fail, editor's note] Therefore, the AF frame cannot be moved according to the speed of movement of the user, which may reduce the operability of the user.
Do you think I got the patent right? Feel free to speak out in the comments section.
More Canon patents are listed here. Some particularly interesting patent applications we think might get into production are these: