Canon Patent: Extension Grip With Easy To Change Batteries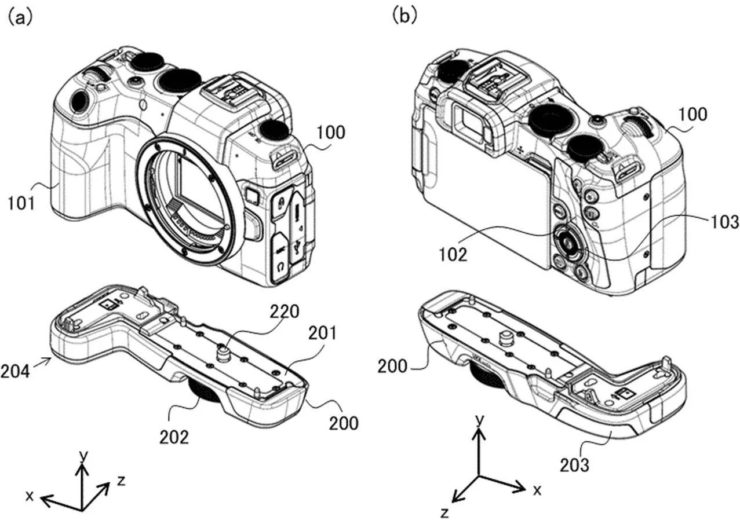 A potentially rather useful Canon patent was spotted: an extension grip that allows for uncomplicated change of the batteries.
Canon patent 2022125113 (Japan) discusses methods and technology for an extension grip where batteries can be changed easily. According to the patent drawings, it seems for a compact mirrorless camera, more or less in EOS RP style.
From the patent literature:
A camera accessory is provided in which a battery can be easily inserted into and removed from the camera while being attached to the bottom surface of the camera.

Description of the Related Art

Along with the miniaturization of cameras, an auxiliary grip attached to a camera has been provided as an imaging accessory for improving the holdability of the camera for users with large hands. Patent Document 1 discloses an auxiliary grip detachably attached to a grip portion of a camera. In addition, an auxiliary grip ( hereinafter referred to as an extended grip) is also provided.

However, if the extended grip is attached to the camera when attempting to insert or remove the battery from the bottom side of the camera, first the extended grip is removed from the camera, and then the cover member on the bottom of the camera is removed. It has to be opened, which is annoying for the user.

The present invention provides a camera accessory that allows the battery to be easily inserted and removed from the camera while attached to the bottom surface of the camera.
More Canon patent applications are listed here. Some particularly interesting patent applications we think might get into production are these:
[via asobinet]