Canon Patent: RF-S 18-45mm f/4.5-6.3 Lens (for RF mount cam with APS-C?)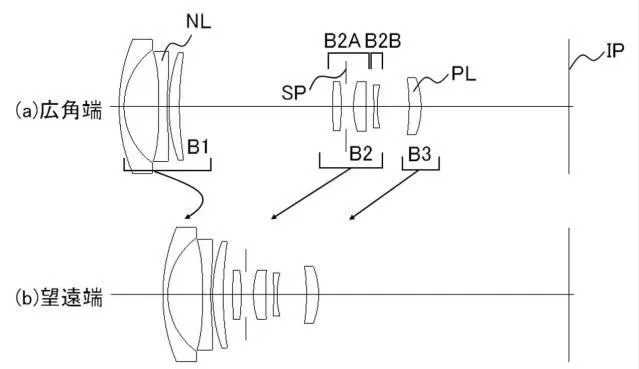 A new Canon patent application for an RF mount lens. The interesting fact here: it seems to be be made for a camera with APS-C sensor. Is the EOS R with crop sensor really coming?
Canon patent application 2021-162822 (Japan, spotted by asobinet.com) discusses optical formulas for a 18-45mm f/4.5-6.3 lens. A kit lens you might add. From the patent literature:
PROBLEM TO BE SOLVED: To provide a lightweight zoom lens.

As a zoom lens used in an imaging device such as a still camera, a video camera, and a surveillance camera, Patent Document 1 discloses a negative lead type zoom lens in which the lens group on the most object side has a negative refractive power.
Embodiment 1:
Focal length: 18.53-43.65
F value: 4.54-6.50
Half angle of view: 33.78-17.38
Image height: 12.40-13.66
Overall length: 92.00-83.05
Back focus: 30.20-51.20
Embodiment 2:
Focal length: 20.01-43.64
F value: 4.60-6.50
Half angle of view: 31.79-17.38
Image height: 12.40-13.66
Overall length: 90.65-80.61
Back focus: 32.94-50.55
This definitely appears to be a lens for a APS-C sensors. asobinet.com notes that:
[…] the image height on the wide-angle side is 12.40 mm, which is a little too small, so it may be stretched by image processing. Since the back focus is longer overall, is it a mirrorless lens that uses a retractable structure? It's similar to the patent application that appeared in 2019, but this time it's different. The focal length at the wide-angle end is as low as 18.53mm, and you may feel that the angle of view is a little narrow for movie shooting.
The lens might also be for the EOS M system, although it seems less likely. Is an EOS R with an APS-C sensor really on Canon's radar? We still have a somewhat hard time to believe it but there are signs it might be true. All comments welcome.
More Canon patent applications are listed here. Some particularly interesting patent applications we think might get into production are these: