Canon Patent: 16-160mm f/2-4 Lens For 4/3 Imaging Systems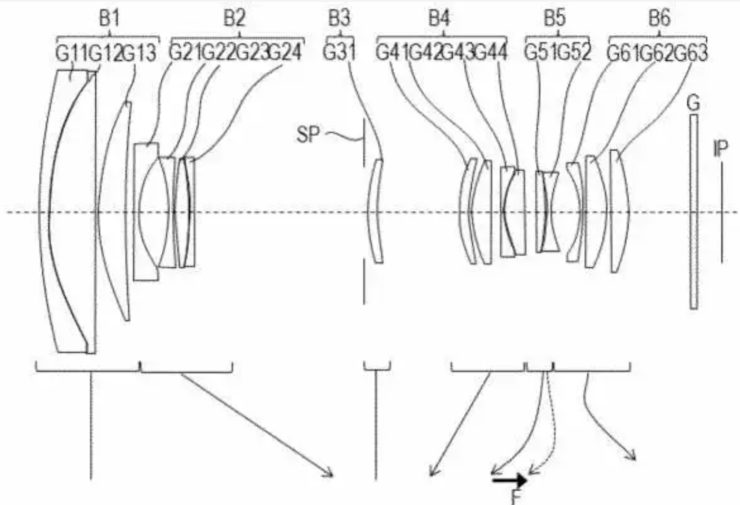 Here is a somehow different Canon patent. Different, because it refers to an imaging sensor standard Canon does not implement, that's 4/3.
Canon patent application 2020191458 (Japan) discusses optical formulas for a 16-160mm f/2-4 lens for a 4/3 imaging sensor.
PROBLEM TO BE SOLVED: To obtain a zoom lens having high optical performance and an image pickup apparatus having the same while suppressing the increase in size of the entire optical system due to the increase in size of the image pickup element.

There is a demand for a lens having a high magnification ratio while being compact in an imaging optical system used in an imaging device such as a surveillance camera, a network camera, or a video camera using a solid-state image sensor.

In recent years, with the rapid expansion of the surveillance camera market, various demands for lenses for surveillance cameras have been raised. For example, there is a demand for miniaturization from the viewpoint of installability and inconspicuousness, and a demand for high definition and high sensitivity from the viewpoint of using surveillance video data as court evidence.
Example 1
Focal length: 16.47-160.13
F value: 2.27-4.12
Half angle of view: 33.30-3.87
Image height: 10.82
Overall length: 146.48
Back focus: 5.35
More Canon patent applications are listed here. Some particularly interesting patent applications we think might get into production are these:
[via asobinet]